Valve producer engineers plans for expansion overseas, reports Cai Xiao in Xinchang, Zhejiang.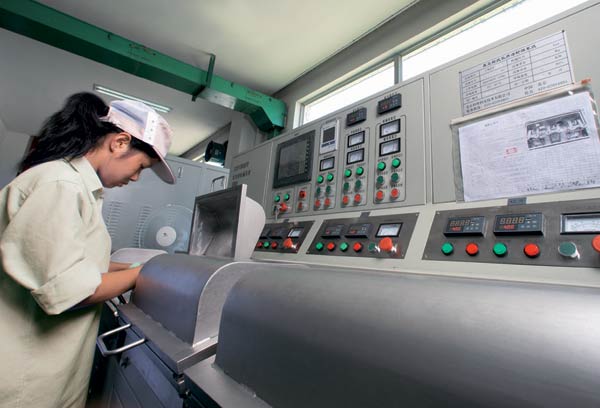 A worker of Zhejiang Sanhua Co Ltd is testing 4-way reversing valve in Xinchang, Zhejiang province. [Provided to China Daily]
'We don't rest on our laurels. If we don't constantly innovate and reinvent ourselves, we'll become obsolete," said Zhang Yabo, chief executive officer of Zhejiang Sanhua Co Ltd, the world's largest air conditioner valve producer.
Based in Xinchang, Zhejiang province, Sanhua has a huge share of the global valve market: more than 50 percent for four-way reversing valves (which allow air conditioners to switch between cooling and heating modes) and more than 30 percent for service valves (which connect the indoor and outdoor units of split-type air conditioners).
Revenue grew 10.4 percent last year to 5.8 billion yuan ($933 million), with 44 percent of sales from abroad. Net profit was up 50.8 percent to 487.7 million yuan, the Shenzhen-listed company said.
"For the next three to five years, our traditional business will go hand-in-hand with our new businesses," said Zhang. "We'll make progress in Europe and the United States to achieve high growth."
He said that most of the company's technological innovation was internally driven, but it had also hired overseas specialists and pursued mergers and acquisitions to obtain and integrate technology.
One such M&A deal involved German household electrical appliance accessory producer Aweco Appliance Systems GmbH & Co KG, which was wholly acquired in 2012.
Zhang said Aweco had difficulties that year because of management and investment problems, but Sanhua was attracted by the company's innovative technologies, product lines and clients - high-end electrical appliance manufacturers.
After acquiring Aweco, Sanhua replaced the chief executive and financial officers but retained most of the other managers. And to control costs, Sanhua moved production from Germany to Poland. In China, it shifted the Shanghai factory to Wuhu, Anhui province. Global procurement sources were integrated.
"Although the integration process has not been as smooth as we thought it would be, it is on the right track and we believe Aweco will begin to make a profit this year," said Zhang.