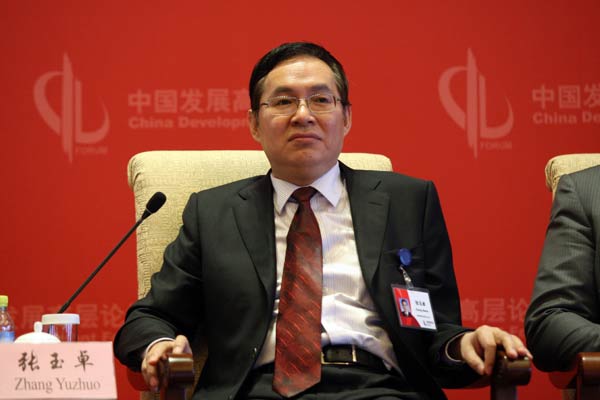 Zhang Yuzhuo, chairman of Shenhua Group. [Photo provided to China Daily]
China's coal-dominated energy mix will not change for the next two decades because increased reliance on imported oil poses a threat to the country's energy security, the head of China's largest coal mining company said on Saturday.
Zhang Yuzhuo, chairman of Shenhua Group, told the 2015 China Development Forum in Beijing that coal will remain the country's primary energy source, because of China's large coal reserves and as a result of global energy trends.
"If you look at China's economic growth, it's consistent with the growth in coal consumption, so non-fossil fuels will not be able to replace fossil fuels in the near term," Zhang said.
He predicted that coal will still be the country's dominant energy source in 2030, and will account for at least 50 percent of the energy mix.
Last year, China consumed approximately 3.7 billion metric tons of coal, which accounted for roughly 66 percent of the nation's energy demand.
However, the use of coal is considered one of the primary causes of the polluted air that hangs over major cities such as Beijing, and is also regarded a significant source of greenhouse gases thought to be responsible for climate change and global warming.
China is determined to change its energy mix and increase the use of non-fossil fuels such as solar, wind, hydropower and nuclear energy.
According to a national plan released in 2009, the share of non-fossil fuels in the primary energy mix will rise to 15 percent by 2020. At present, they account for just 11.4 percent of the mix.
Zhang said environmental considerations are likely to see coal production and use decline in the coming years, but change will be slow.
"What we should do is develop high-efficiency, clean utilization of coal, in addition to clean coal conversion to fuels and chemical technologies, as part of the country's clean-energy development," he said.
Experts said the high cost of clean coal-fired power generation would make it hard to expand its use.
"Coal's share has been relatively steady for decades, and it takes a long time to replace fossil fuels with non-fossil and clean fuels," said Li Jinmin, director of the Development and Research Center of Shanxi province.