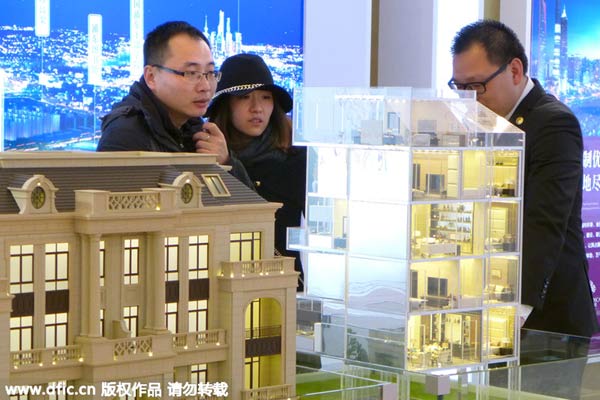 Chinese homebuyers look at models of residential apartment buildings during a real estate fair in Shanghai, December 13, 2014. [Photo/IC]
SHANGHAI - Shanghai is considering raising the ceiling for housing loans under its provident fund by as much as 75 percent, the Shanghai Securities News reported on Tuesday.
Currently, an individual in Shanghai can borrow as much as 400,000 yuan ($64,376) from the provident fund to buy a home, while a family can borrow up to 800,000 yuan.
The local government is considering raising the lending cap to 700,000 yuan and 1.2 million yuan, respectively, the newspaper said, citing unidentified officials at the Shanghai Provident Fund Management Center.
On March 20, Chen Zhenggao, head of China's Ministry of Housing and Urban-Rural Development, called on local governments to make good use of housing provident funds to help low- and mid-income residents improvement their housing conditions and promote healthy development of the real estate market.
China's property sales in the first two months of 2015 dropped by the most in three years amid a glut of housing supply, and real estate investment growth eased, dragging on the world's second-largest economy.
Related:
Home purchase limits 'unchanged', by Wu Yiyao, China Daily
Shanghai's housing authority said on Monday that the city will not scrap or loosen its home-buying restrictions, as some in the market have speculated. Current policies on home purchases will continue, officials said.
Property market insiders said they expect more policies in the coming months to support residential property transactions, following Premier Li Keqiang's comment that governments need to apply reasonable regulations to manage and support the market.
But new policies may not be introduced soon in first-tier cities like Shanghai.