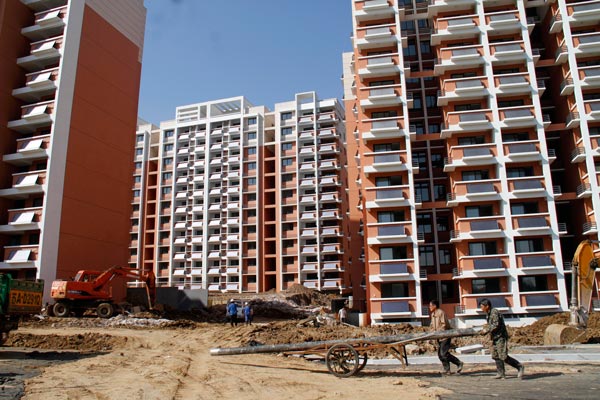 A property construction site in Nanjing, capital of Jiangsu province. [DONG JINLIN/FOR CHINA DAILY]
In the first in a series on China's 'new normal' economy, developers and analysts say that it is tough to call the outlook for the property market, reports Zheng Yangpeng.
After a disappointing 2014, the property market faces even more uncertainties in the Year of the Ram, with positive and negative factors abounding.
On the "bull" side, the Government Work Report, a tone-setting document presented by Premier Li Keqiang at the annual session of the National People's Congress, surprisingly omitted any mention of "curbing investment and speculative demand", which repeatedly appeared in previous reports.
Instead, it recognized "people's demand for housing for personal use and second homes", and it added that "China will stabilize its property market this year, with tailored, market-based policies to guide stable and healthy development".
That comment was widely interpreted by the market as a signal of further policy easing and other steps to boost demand.
On the "bear" side, sales figures so far this year provided little cheer. In the first two months of 2015, residential sales by area fell 17.8 percent year-on-year and construction starts by area slid 19.8 percent, the National Bureau of Statistics said. In January, home prices declined in 64 of the 70 cities the NBS monitors.
A volatile market makes forecasting difficult. At the beginning of 2014, sentiment was improving and few analysts said that prices would fall, although many expected slower gains.
However, the importance of the sector to the overall economy makes it hard for analysts to avoid making forecasts. There are four key issues they are watching.
First: Will there be a recovery from 2014?
Since the fourth quarter of last year, housing sales have picked up in response to positive policies. In the 35 major cities monitored by the E-House China R&D Institute, in January it took an average of 14.5 months to sell the inventories in these cities. In December, the figure was 14.3 months, extending a decline that began in October.