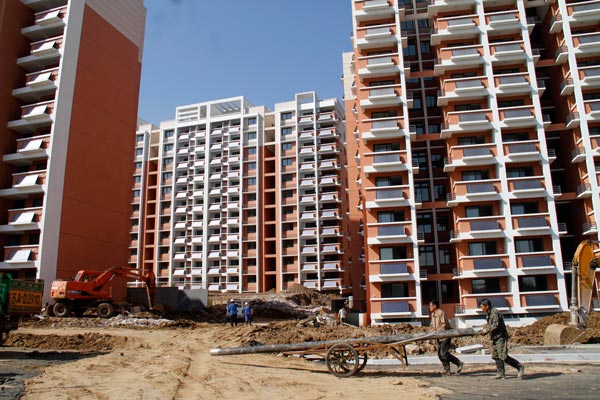 A property construction site in Nanjing, capital of Jiangsu province. DONG JINLIN/FOR CHINA DAILY
The central bank's surprise interest rate cut over the weekend will be a shot in the arm for the flagging property market, with bigger cities getting the largest benefit, according to analysts.
The second interest rate reduction in three months was not primarily targeted at supporting the housing market, but the sector will benefit anyway through lower borrowing costs for developers and homebuyers seeking mortgages.
The People's Bank of China announced on Saturday it was cutting benchmark interest rates by 25 basis points. That move took the one-year lending rate to 5.35 percent and the rate on longer-term loans with maturities of up to five years to 5.75 percent.
The industry had been hoping for further rate reductions. Developers noted that average home loan rates remained high at 6.25 percent as of the end of 2014, only fractionally down from 6.54 percent at the beginning of the year.
The central bank's rate cut in November sparked a brief homebuying surge in the fourth quarter. But as the impact wore off, concerns arose that without more policy stimulus, the fragile recovery could turn into a rout.
According to E-house China R&D Institute, home sales in 30 cities in February declined 46.5 percent month-on-month and 11.3 percent year-on-year, the weakest record in 36 months. Although the Chinese Lunar New Year holiday played a major factor, there is also widespread concern about conditions this month.
Renewed price declines last month added to the worry. According to the China Index Academy, a private researcher, the average new home prices in 100 cities that it monitors fell by 0.24 percent month-on-month, compared with a gain of 0.21 percent in January.
The academy noted that after the latest rate cut, the interest rate for long-term loans has fallen to a 10-year low. That will be a bonus to homebuyers.
For example, if a typical homebuyer bought a 2 million yuan house and borrowed 70 percent of the money from banks, he could pay 80,000 yuan ($12,800) less in total interest, or 226 yuan less per month.
Both the academy and E-house forecast a significant boost in sales in March, as prospective buyers returned to big cities after the holiday, market sentiment improved and developers rolled out more projects for sale.
But E-house analysts said that home sales and prices in smaller cities were unlikely to get the same lift as in big cities because of significant oversupplies there.
Standard & Poor's Ratings Services said at a conference on Monday that Chinese developers' offshore market financing is unlikely to surpass the scale last year, given the negative impact of Kaisa Group Holding's default incident, the low confidence of developers and reduced refinancing demand.