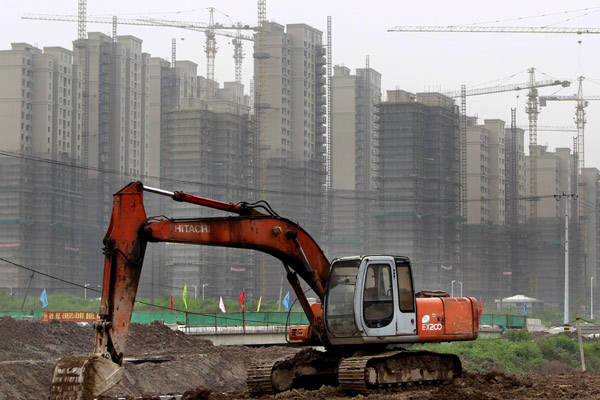 An excavator works near a residential building under construction in Baoshan district, Shanghai, in July. [Ding Ting / Xinhua]
China's average new home prices fell at the fastest pace on record in February from a year earlier, hurt by slower sales during the Lunar New Year holidays, but developers and analysts expected prices to slowly recover - particularly in top-tier cities.
Average new home prices in China's 70 major cities dropped 5.7 percent last month from a year ago, the sixth consecutive fall, following January's 5.1 percent decline, Reuters calculated from official data published on Wednesday.
It was the biggest annual fall in the nationwide survey which has been compiled since 2011. The monthly fall in February from January was 0.4 percent, the same as in the previous month.
The property sector accounts for some 15 percent of China's economic output. Weak property prices and sales highlight the challenges facing the economy even in achieving Beijing's reduced growth target.
"The property market will have to switch to boosting the economy from being a drag in order to hit the 7 percent GDP growth target this year," said Tim Condon, an economist at ING.
"We remain of the view that the PBOC (central bank) will deliver another 25 basis points of policy interest rate cuts in each of the last three quarters of the year."
The National Bureau of Statistics data showed new home prices in Beijing fell 0.2 percent between February and January, accelerating from a 0.1 percent fall in January from December, while Shanghai prices fell again by 0.1 percent after stabilising following eight straight month-on-month falls.
Liu Jianwei, senior statistician at the National Bureau of Statistics (NBS), said in a statement on Wednesday that sales in March will show a significant seasonal rebound from February.
Of the 70 major cities the NBS monitors, 66 posted a monthly decline, up from January's 64.