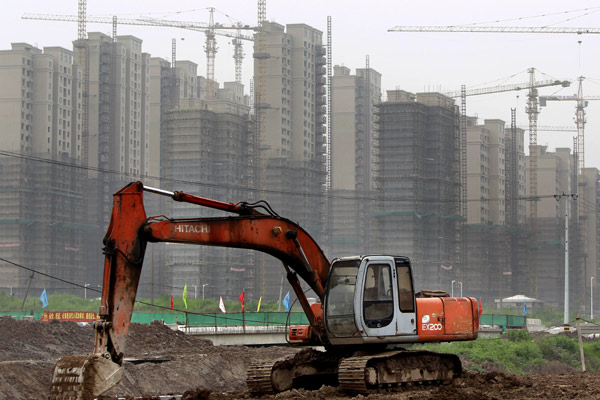 An excavator works near a residential building under construction in Baoshan district, Shanghai, in July. [Ding Ting / Xinhua]
Shanghai's housing authority said on Monday that the city will not scrap or loosen its home-buying restrictions, as some in the market have speculated. Current policies on home purchases will continue, officials said.
Property market insiders said they expect more policies in the coming months to support residential property transactions, following Premier Li Keqiang's comment that governments need to apply reasonable regulations to manage and support the market.
But new policies may not be introduced soon in first-tier cities like Shanghai.
"The government still seems to be committed to taking a back seat to market forces in the real estate sector, though it is encouraging the assimilation of excess commodity residential stock to social housing as a way of reducing inventories and rebalancing the supply-demand equation in some oversupplied markets," said a research note from Savills, a property services provider.
"The first-tier cities' house-purchase restrictions have remained unchanged. But considering that clear signals have been given to support end users, it is believed that the policies still have space to be loosened, rather than totally lifted," said Regina Yang, director and head of research at Knight Frank Shanghai, an independent commercial and residential real estate consultancy.
A website that focuses on property market information claimed on Sunday that Shanghai will loosen its four-year-old restrictions on home purchases on April 1, which will allow more residents to buy a first, second or even third home.
Analysts and market insiders said that such speculation and rumors reflect potential buyers' hopes for a more lenient policy toward home buying in the megacity.
But given Shanghai's population and the sheer size of its property market, it is unlikely to see any loosening in the residential property market in the short term.
"We have heard rumors saying that Shanghai will loosen its limits on home buying by April this year. We confirm that Shanghai will continue with full implementation of its current policies on home buying," said Pang Yuan, deputy director and spokesman with the Shanghai Municipal Housing Support and Building Administration.
Removing purchase limits in first-tier cities may risk pushing up home prices rapidly amid speculative buying, which contradicts the goal of achieving stable growth, Yang said.