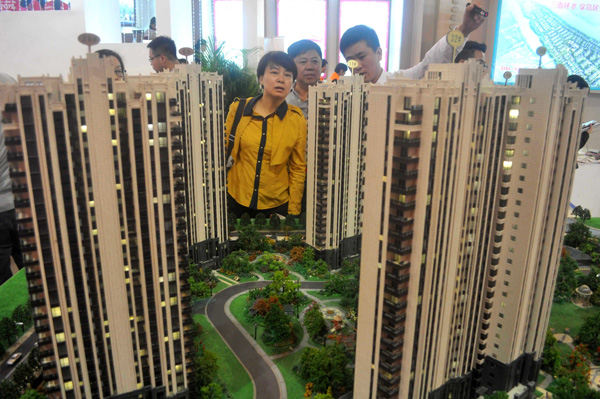 Potential homebuyers examine a property project model in Shanghai, May 2, 2014. [Asianewsphoto by Yan Daming]
China's Shanghai municipality will not lift its current home purchase restrictions, National Business Daily reported on Wednesday, citing Liu Haisheng, director of Shanghai Municipality Housing Security and Management Bureau.
Liu announced the decision at the Plenary Meeting of the Third Session of the 12 th CPPCC Shanghai Committee, which started on Jan 24.
Shanghai is this year's first first-tier city to announce that it will stand by purchase restrictions. The other three cities, Beijing, Shenzhen, and Guangzhou have yet to make announcements regarding the policies this year.
Wang Anshun, mayor of Beijing, previously said the capital would not ease restrictions, a move that could undermine the city's efforts to restructure and maintain the sustainability of the market.
China's home sale decline continued to ease in December, as fewer cities saw falling prices, according to data from the National Bureau of Statistics released on Sunday.
And price of new home had a month-on-month drop in 65 of the 70 cities that the bureau tracks.
Among the 46 cities to introduce property policies, 41 have dropped purchase restrictions. Hohhot, capital of the Inner Mongolia autonomous region was the first to drop the restrictions back in June, 2014.
Related Story:
First-tier cities expected to lift property restrictions by Dai Tian
Scholars of Chinese Academy of Social Sciences expect first-tier cities to join others this year in lifting the housing purchase limit to shore up property market.
The five cities that still have such restriction, namely Beijing, Shanghai, Guangzhou, Shenzhen and Sanya, will likely relax the limit, as home price continues to slide, reported People's Daily on Monday quoting Ni Pengfei, director of CASS center for city and competitiveness.