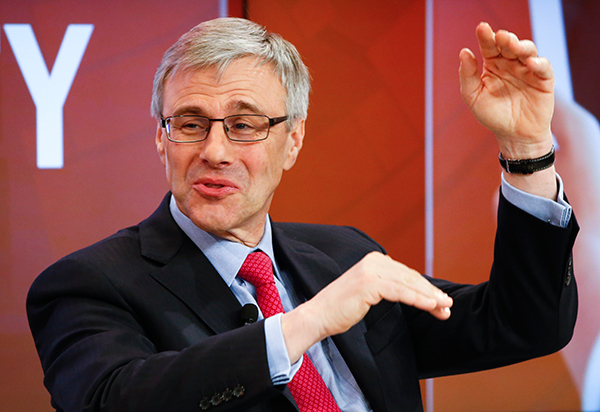 Alain Dehaze, chief executive officer of the world's biggest job recruitment and human resources company Adecco Group

Top human resources group's boss lives up to his company's motto "better work, better life"
For Alain Dehaze, new chief executive officer of the world's biggest job recruitment and human resources company Adecco Group, his driving ambition does not simply lie in numbers.
With nearly two decades of experience in the human resources industry, he always looks beyond numbers as he tries to live up to the company's motto of "better work, better life".
And the Swiss group's partnership with the State-owned enterprise Foreign Enterprise Human Resources Service orFESCO, one of the most successful Chinese human resources businesses, is just another case in point.
"FESCO's knowledge of the local market and Adecco's worldwide practices have been translated into the joint venture," he says.
"As Adecco has a lot of international customers, they are also willing to receive the services in China provided by our joint venture."
The joint venture formed six years ago now provides clients and individuals outsourcing, dispatching, recruitment, employee welfare and related HR solutions.
Recently, Dehaze spoke to China Daily about business opportunities in China, the trends of human resource industry, and his management philosophy and style.
The following are edited excerpts from the interview.
What is your understanding of China's economic slowdown and the possible impact it will have on your company?
China's GDP growth will slow down to a lower level, but not significantly for an economy of this size.
Recent figures have shown that the economy is picking up. It means the government is making the right decisions.
For us, the joint venture here in Shanghai continues to grow very fast. We have 500,000 associates and 10,000 clients here in China.
Since 2010, FESCO Adecco had been given the Fastest Growth Award or the Best Emerging Market in Adecco Group. As a significant player in China, we believe FESCO Adecco will outperform the market.
What do you think about the change from business tax to value-added tax?
Value-added tax is the common practice among the majority of the countries in the world. I understand that the Chinese government plans to give a relief to companies, so there is more competitiveness and attractiveness for them.
For us, the major challenge lies in an experience and learning curve. Our customers are used to paying business tax.
But now they will have to pay VAT and invoice in VAT. They will only pay the difference between what they have invoiced and what they have paid. We have to explain that to our customers.
You said in your 2015 fiscal report that you will devote more effort to developing the permanent placement sector this year. Will China follow it?
Yes. Last week we acquired a company called Person. This will help us to accelerate permanent recruitment activities in China.
Reasons vary. It corresponds to the need of our customers who would like to outsource this recruitment process. It represents an opportunity for us to go into new markets, not specifically in China but also in many other markets.
For general staffing, this sector in many markets mainly concentrates on the blue-collar workers, who are relatively lower-qualified candidates. For permanent placement, we are tapping into a new market which targets higher-skilled candidates.
What do you think about the prospect of flexible staffing?
We have seen different kinds of flexible solutions. It can be temporary staffing. We are also sending people with competencies to our customers, in IT, engineering and also the medical sector.
There is a global trend for flexible staffing. All work is becoming more volatile and more uncertain. The various economies in the world are developing rapidly and so are technologies. The life cycles of products are becoming shorter. It means that everything and everyone has to be flexible and agile.
You have built up a strong team of career transition business with the acquisition of Penna Consulting plc and Knightsbridge Human Capital Management Inc, together with the group's Lee Hecht Harrison. What is your outlook of this business in China?
By having done these, we have consolidated our global leadership. It means now we can serve our customers in 64 markets in the world. The second market player in career transition is 50 percent smaller than we are.
In the short term, Chinese candidates will find such consulting services less necessary, for the market is vibrant enough for them to land a new job easily. But China is now confronting new competitors such as Vietnam or Indonesia. Candidates must have new skills to deliver better products and more sophisticated services. This will require services such as talent development or career transition.
This business definitely has a promising future in China. Companies are looking for transformation. Therefore, they need us to help them transition, outplace, train people or provide internal mobility and external mobility. That's why we are changing the term "outplacement" into "career transition".
You were appointed the chairman of Global Apprenticeship Network and have placed a lot of stress on youth unemployment. How is the network going to work in China?
It is very relevant for China. In every country in the world, youth unemployment is double the rate of average unemployment.
One of the problems the world now faces is that education is currently producing students with competencies which are proving less relevant for the business community, which results in high youth unemployment.
The only three exceptions are Germany, Switzerland and Austria. It is because for decades they have adopted an apprentice model.
The majority of the youth there become apprentices from 15 to 18 years old. They are doing a combined training.
Around 20 percent of the time is spent at school and the rest is being trained in companies. Within three years, they build up specific competencies and functions.
After that, they have the possibility of either going to universities to earn a degree, or going out to regular work.
China has a very good educational system. It ranks ninth globally in terms of the quality of its formal education system. But what it lacks is vocational education.
As you are moving from a low-skilled manufacturing country to a service economy, you will need to secure the talents and competencies of the workforce. Lifelong learning is important.
What are your criterion for choosing the right people working within your organization?
I am always looking for people who reflect our values and management behavior, have entrepreneurship, passion, a sense of responsibility, a cool head and a curious mind, smile a lot and are hands-on.
What is your life and business philosophy?
The 4Ps: people times purpose times performance equal profit. With this I mean getting the right people working with a purpose in a well-performed way, then profit will come.
What is the book that you are reading right now?
Start with Why by Simon Sinek.
Please use three words to describe Chinese business people?
Driven, relationship-based, long-term.
CV
Age: 53
Birthplace: Belgium
Career:
2015 onwards: CEO of Adecco Group
2011-15: Regional Head of Adecco France
2009-11: Regional Head of Adecco Northern Europe
2007-09: CEO of Humares 2005-07: COO of USG People
2002-05: CEO of Solvus 2000-02: Managing Director of Creyf's Interimin Belgium (now Start People)
1987-2000: Senior positions in Henkel and ISS
Education:
ICHEC Brussels Management School, Belgium
Family:
Married with three sons and a daughter