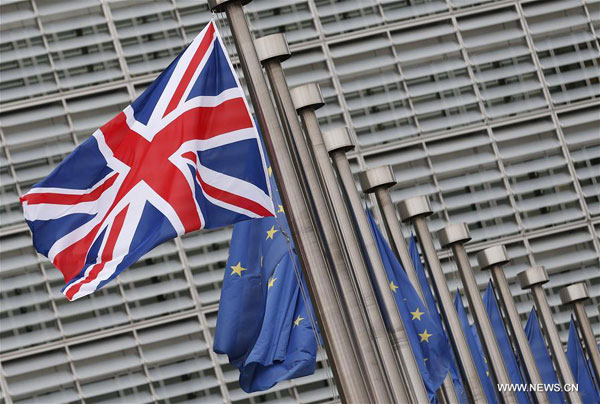 Photo taken on Jan 29, 2016 shows the UK and EU flags outside the European Commission headquarters in Brussels, Belgium. [Photo/Xinhua]

Analysts ponder implications for the yuan and A shares if Brexit comes to pass
China's stocks and currency markets are bracing for the outcome of the United Kingdom's referendum on European Union membership. Economists and investment officers are mulling various possible scenarios that might ensue if Britons vote to leave or remain in the EU.
The impact of the outcome still remains to be seen, they said. The final results will likely be known by Friday afternoon (Beijing time).
Steven Zhang, chief economist at Morgan Stanley Huaxin Securities Co, said in a research note: "If the UK decides to withdraw from the EU, an increase in risk aversion will trigger fluctuations in the global financial market in the short term, which will affect China's A-share market to a certain extent.
"As global investors increase their assets denominated in the dollar, thus pushing up the dollar index, the renminbi will be under pressure to depreciate. In the medium and long term, the weakening of demand in developed economies such as the EU will cause further downward pressure on China's exports."
Citigroup Inc also said in a weekly report on foreign exchange that if the UK votes to leave the EU, it may drive depreciation of the British pound and the euro against the dollar, which may, in turn, cause depreciation of the renminbi and have a negative impact on investor sentiment.
But investors may not see huge fluctuations in the renminbi exchange rates and the A-share market, said Tommy Ong, head of wealth management solutions for China at DBS Bank (Hong Kong) Ltd.
"During the past six months, the exchange rate of the renminbi against a basket of currencies already fell 5 percent. If pressure rises on the Chinese currency ..., the People's Bank of China is likely to take action in offshore markets."
Mark Haefele, global chief investment officer of wealth management at UBS AG, said: "Gilts (or UK's government bonds) are likely to outperform under a leave scenario, as questions about the economy and the path of interest rates come into question.
"If the UK decides to remain in the EU, it seems likely that uncertainty would decline, which should in turn lead to a recovery for sterling in the first instance. Elsewhere, we would expect the opposite reaction in markets ..., but some of the moves may be tempered by the size of the victory."