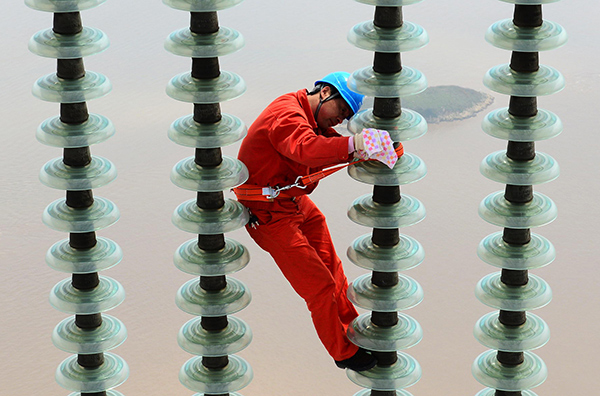 A worker from State Grid repairs power transmission facilities in Zhoushan, Zhejiang province. [Yao Feng/For China Daily]
State Grid Corp of China, the world's largest utility company, is in talks to buy a stake in Brazilian power distributor CPFL Energia SA, according to people with knowledge of the matter.
Government-owned State Grid is in discussions to purchase some or all of Camargo Correa SA's holding in CPFL, one of the people said, asking not to be identified, as the information is private.
Camargo Correa owns about 23.6 percent of the company, according to CPFL's website. Based on CPFL's market value of about 20.8 billion reais ($6.2 billion), the entire stake could be valued at about $1.5 billion, not including any premium paid by the acquirer.
The Chinese power distributor has been making acquisitions globally. The company isn't limited in how much it can spend to expand, State Grid's then-chairman, Liu Zhenya, said in March.
Discussions are still ongoing and may not result in a transaction, the people said.
Camargo Correa hasn't made any decision on its stake in CPFL, according to a statement on Wednesday. The Brazilian builder is always evaluating strategic opportunities and is regularly in contact with potential investors, it said in the statement.
Any deal would add to the $144.3 billion in overseas acquisitions by Chinese companies this year, data compiled by Bloomberg show. State Grid was among suitors planning to submit bids for Australian power network Ausgrid, which could fetch more than A$10 billion ($7.5 billion), people with knowledge of the matter said in February.
State Grid, which distributes electricity to 1.1 billion people, had a profit of 86.5 billion yuan ($13.1 billion) on a revenue of 2.08 trillion yuan in 2015, its website shows. The company was named the preferred bidder for a 14 percent stake in Belgian electricity and gas distribution system operator Eandis Assets earlier this month, according to a press release.
State Grid already operates in Brazil, running about 6,000 kilometers of transmission lines, according to its website. In April, the company won the largest portion of an auction of transmission lines in the country, gaining a total of 1,005 km.