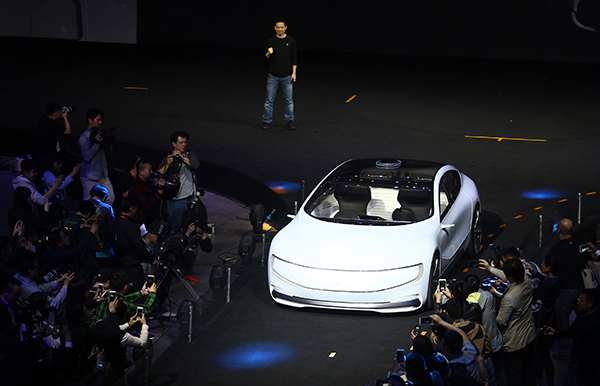 Jia Yueting (top), chairman of Le Holdings Co Ltd, at the unveiling of driverless concept car LeSee, which was made by the super car division of the company. [Photo/Xinhua]

Analyst casts doubt on internet firm LeEco's capability to move into automobile industry
Legend Holdings Corp, the major shareholder of the world's biggest PC maker Lenovo Group Ltd, has invested in the first round of financing for the electric-vehicle project of Le Holdings Co Ltd.
"We are only a minority shareholder in this deal," Legend said in an e-mail statement on Thursday, without providing the exact amount of the investment.
The deal is Legend's first investment in the car business, following its earlier investments in agriculture, food, information technology, financial services, medical service, and internet and innovation related consumer products.
The stock price of Hong Kong-listed Legend closed at HK$17.48 ($2.25) on Thursday, up 1.04 percent.
And Beijing Leshi Internet Information and Technology Corp, the listed arm of Le Holdings, closed at 46.9 yuan ($7.13), down 0.21 percent, on the Shenzhen bourse on Thursday.
Several media outlets reported earlier this week that Legend invested about 100 million yuan ($15.2 million) in the first round of financing of Le Super Car, the LeEco electric-car branch.
"It would be a symbolic move to show that Legend is optimistic about the future of smart cars if the investment is just 100 million yuan", said Zhang Yu, managing director of Automotive Foresight Co. He said the research and development of a new model would cost several billion yuan, so 100 million yuan would be "just a trial" and would not influence much on both sides.
Zhang is negative about the future of LeEco as well as Le Super Car.
Zhang said Le Super Car does not have a clear positioning for its products because it has not identified target customers and has no know-how in car sales.
Founded in 2004, LeEco is engaged in several businesses including smart TVs, smartphones and cloud computing. Its electric car branch was set up last year.
In April, it released LeSEE, its first concept self-driving electric car.