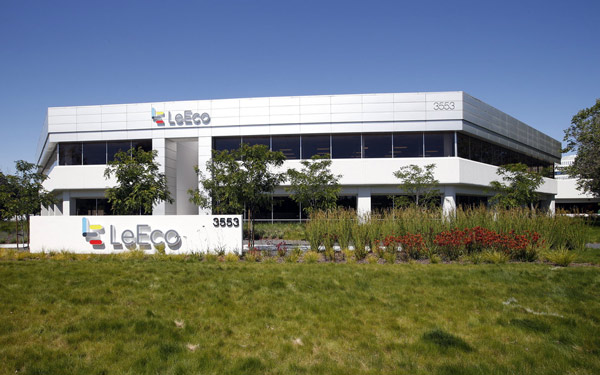 The US office grand opening ceremony of LeEco held at LeEco Headquarters on Thursday, April 28, 2016, in San Jose, California. [Photo/IC]
Approval given for financing to fund expansion, $1.5 billion acquisition of Le Vision Pictures
Shares in Leshi Internet Information & Technology Corp slid 4.17 percent on Friday, on the first day's trading after a six-month suspension, after the securities regulator approved a major acquisition by the firm and a refinancing plan.
A statement on Thursday from the company said trading would resume after regulators approved its deal to buy Le Vision Pictures for 9.8 billion yuan ($1.49 billion) in cash and shares, and its issue of another 5 billion yuan in shares for use as working capital.
The Beijing-based company is listed on ChiNext, the Nasdaq-style board of the Shenzhen-listed growth companies.
The stock ended at 56.32 yuan on Friday, with trading volume at its highest level since the company first listed in August 2010. ChiNext edged up 0.75 percent, but in the six months Leshi has been absent, the index has declined about 18 percent.
Analysts said the new financing arrangements would help Leshi buy more high-quality intellectual property for movie production and online video content, allowing it to compete better in an increasingly competitive market.
Leshi said in the statement that around 4 billion yuan will be used in building up its video content, 400 million yuan on improving the technology used on its platform, as well as on branding.
Huang Guofeng, an analyst with internet consultancy Analysis International, said Leshi's entire operation would benefit from the Le Vision Pictures deal, as long as it can be successfully integrated.
"Leshi has a unique ecosystem made of online video, content, devices and applications.
"With the injection of Le Vision Pictures, its content resources can be significantly boosted and synergies can be brought to the entire business," he said.
Leshi's online video site is in direct competition with Youku Tudou Inc and iQiyi, a video subsidiary of Baidu Inc.
It has the advantage of being able to produce its own smartphones and televisions, which serve as effective channels to distribute and release video content and movies.
Jia Yueting, the chairman and founder of LeEco Holdings Co, Leshi's parent company, expanded into the electric-car industry earlier this year, with the goal of making the vehicles the company's next big growth area.
Investment bank China International Capital Corp recently issued a "buy" recommendation on the Leshi stock, emphasizing the strong prospects of its movie-production business.
"In 2016, Le Vision Pictures will launch several blockbusters and may record stellar box-office sales," it wrote in a research report, cutting its target price to 70 yuan per share.
Bloomberg contributed to this story.