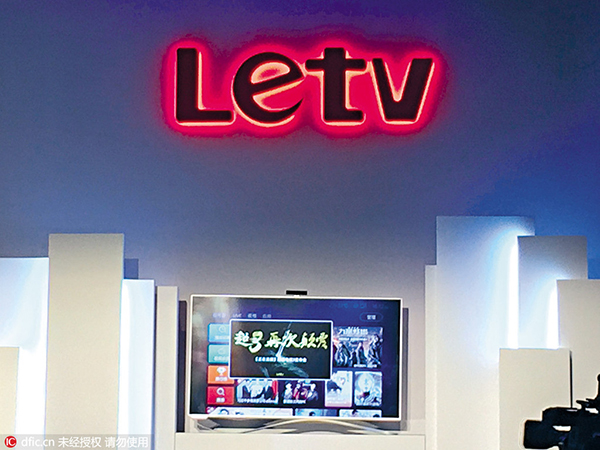 View of a stand of Letv during an exhibition in Hong Kong, China, Dec 2, 2015. [Photo/IC]
Technology major LeEco Holdings Co Ltd is gearing up to become a global company with plans to enter several overseas markets within the year.
Hank Liu, cofounder and vice-chairman of LeEco, formerly known as LeTV, said on Wednesday that it has targeted the United States and India as its two major markets outside China in 2016.
"The year 2016 marks the beginning of our globalization. We don't make it a goal to overtake tech giants, such as Apple Inc, Amazon.com Inc or Tesla Motors Inc. But we do have an ambition to become a globalized company, because all great companies are globalized," Liu said on the sidelines of the 2016 Boao Forum for Asia, in Boao, Hainan province.
According to Liu, LeEco recently entered the US and India markets by opening online channels to sell its smartphones and smart televisions. "Later in the first half of this year, we will make a major foray into Southeast Asia and in the second half of this year, we will enter the Russian market," he said.
He said the Beijing-based firm, which sells Internet-enabled devices that are bundled with video contents in China, is going to replicate its business model in overseas markets.
He refused to reveal the amount of money LeEco plans to pour for the ambitious globalization strategy. But he said the investment will mainly be used to make sure its overseas users have great experience of watching online videos and have a rich selection of video contents to choose from.
"We use different strategies to get contents into different markets. In the US, we adopt a strategy to open our platform to content producers, allowing them to reach audiences through our channel. And in some other countries, we could invest or even buy up some studios, so that we could produce our own programs."
LeEco's newly launched Super TV X65 equipped with a 65-inch 4K screen is priced at 4,999 yuan ($769) in China. Some analysts argued that LeEco could never make profit by setting the price this low. But Liu said the company has no intention to make money from selling devices. "We had 12 million paid subscribers for our TV contents alone in 2015," he said.
The reason LeEco chose US and India as the top priorities for overseas expansion is that the market in the US is very developed with cutting-edge tech companies while India is the most important emerging economy with a large population.
"If we could be successful in those two markets, we can be successful around the world," he said, adding being successful means that LeEco needs to become one of the top three players there not only in terms of market shares but also in the number of users.
The company has a unique business model that is based on the so-called ecosystem, covering smart devices, video contents and now electric cars.