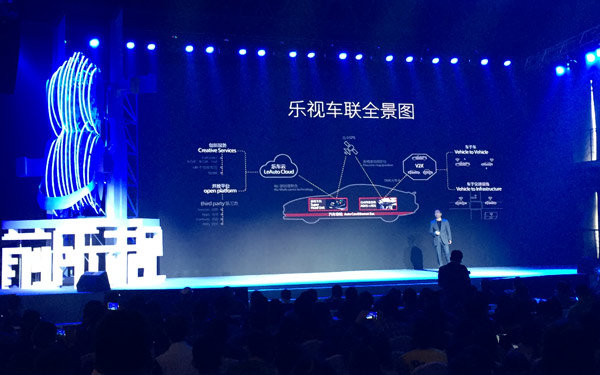 Ding Lei, head of LeEco's car development arm, delivers a keynote speech at a press conference on March 16, 2016 in Beijing. [liu Zheng/chinadaily.com.cn]
Chinese tech company LeEco Holdings Co held a press conference on Wednesday to roll out its business strategy regarding connected cars and also introduced its management team to the public.
"Based on the principle of "opening up", we are keen to collaborate with the entire auto industry to rebuild the latter's eco-system," said Ding Lei, head of LeEco's car development arm. Named "SEE project", the company's auto-connected blueprint aims at becoming one of the important carriers in the process of the connecting the Internet with the Intelligence of the auto sector.
During the press meeting, three domestic auto manufacturers, including BAIC Motor, BYD and Dongfeng Motor have respectively signed cooperation agreements with LeEco for embedding the company's connected-car system -- an "ecolink" in selected products.
Being the first strategic partner among the three enterprises, BAIC Motor announced its ecolink-supported blade electric vehicle -- EU260 at the Guangzhou International Motor Show held last November.
"We'll further collaborate with LeEco in establishing an open auto eco-system," said Zhang Yong, vice general manager of BJEV, A BAIC Group subsidiary that produces new-energy vehicles. "Our cooperation will not only be limited to products and services, but also reflects our successful experiences in our respective industries," Zhang added.
Ni Kai, who is named by media as "one of the country's pioneers of driverless study", also attended the event.
Ni used to be an senior scientist of tech giant Baidu's Institute of Deep Learning and head of the company's driverless R&D team before he took the position as the vice president of the smart driving department of LeEco's auto manufacturing arm.
According to He Yi, CEO of LeEco's auto-connected system, by relying on its global innovative R&D team, the company's platform will revolutionize the traditional driving experience and provide a new business model for partners that work on the automobile supply chain.
"Currently, ecolink has been available for automobile application content providers, such as map navigators, audio players and news radios, to embed on the platform -- open.le.com, and the accessibility of the Software Development Kit (SDK), including the ability to monitor the condition of the automobile, voice control and mobile payments, which will also be open to third party developers," said He.
According to the company, the entire team of LeEco's auto-connected arm has close to 300 people, among whom more than 50 have multinational backgrounds. The company has established a globalized structure with its headquarters based in Beijing and its innovation center, integration center and R&D center located in Silicon Valley, Los Angeles, Shanghai and Chengdu, respectively.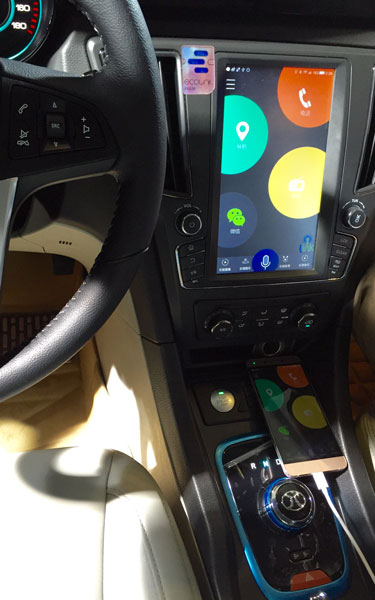 Ecolink, a LeEco-backed connected-car platform, is on display at the rear center console of a new-energy produced by BAIC Motor. [Liu Zheng/chinadaily.com.cn]
Two on-board smart devices were also announced during the event.
Priced at 299 yuan ($46), the new video recorder makes it possible for drivers to share clips on LeEco's online video channels.
For drivers whose car lacks on-board Bluetooth-connected radios, map navigators and voice controls, LeEco presents its solutions with a set that includes a Bluetooth receiver and a mobile controller attached to the steering wheel.
Three on-board electronic solution providers, including Shenzhen-based HSAE, Huizhou-based ADAYO and Desay SV Automotive, have also signed cooperation deals with LeEco.
Next month, the concept vehicle of LeEco's auto subsidiary arm is expected to be on display at the Beijing International Auto Show and the company will also jointly launch a new connected-car system with BYD.