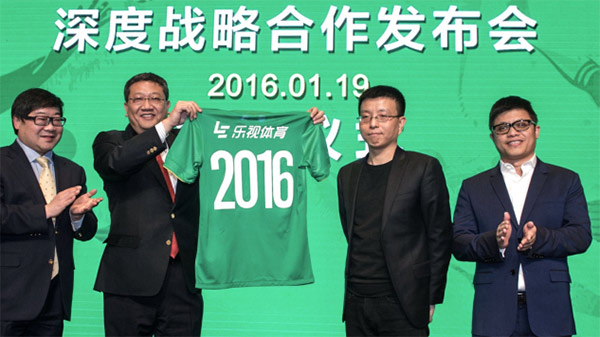 The new official jersey of Beijing Guoan LeEco team is shown on Jan 19, 2016, during a signing ceremony between LeEco and Beijing Guoan Football Club. [Photo/Xinhua]
Chinese Internet company LeEco, formerly LeTV Holdings Co Ltd, signed cooperation agreements with Beijing Guoan Football Club on Tuesday, to further expand its presence in the nation's sports industry.
"Le Sports will support the innovation-driven marketization of the club," said Lei Zhenjian, chief executive officer of Le Sports, a subsidiary company of LeEco.
According to Lei, thanks to LeEco's Internet ecosystem, die-hard fans will be closely connected with Guoan's players.
"Tickets and souvenirs will be on the shelves of LeMall, the e-commerce platform of LeEco, and live streaming of games will also be presented on LeEco's variety of branded smart hardware products, including smart televisions, smartphones or even vehicles," Lei added.
Although the event did not disclose any acquisition details, earlier media reports had indicated that LeEco was in discussion with CITIC Group, formerly the China International Trust and Investment Corporation, to acquire the latter's 50 percent stake in Beijing Guoan.
According to industry media reports, CITIC agreed to transfer its 50 percent share in Beijing Guoan in late December on condition that LeEo would not change the colors, name or logo of the team.
The estimated market value of Beijing Guoan is about 4 billion yuan ($613 million). That means, LeEco would have to shell out roughly 2 billion yuan for the 50 percent stake, said industry sources.
Prior to the agreements, LeEco showed its interest in soccer earlier by acquiring a 20 percent stake in Singapore-based World Sport Group in September to become one of the three major shareholders of the organization which holds exclusive copyright and development rights for all games organized by the Asian Football Confederation.
Beijing Guoan's newly-appointed Italian head coach Alberto Zaccheroni and four international players were at the event.
Set up in 1992, Beijing Guoan is the only team which has not seen its owners change since China established its professional soccer league in 1993. It was also the first team to win the Chinese Football Association Cup three times.
"China's sports industry is expected to account for 0.7 percent of GDP with an added value of 400 billion yuan ($62 billion) in 2015," said Feng Jianzhong, deputy director of the State General Administration of Sport of China.
"By 2020, the total scale of the sports industry is expected to exceed 3 trillion yuan and the industry's added value will account for 1 percent of GDP," he added.
China's cabinet, the State Council, issued the "Suggestions on Accelerating Development of Sports Industry and Promoting Sports Consumption" last October, aiming to boost the development of the country's sports sector and expand into a 5 trillion yuan industry by 2025.
"The sports industry has grabbed huge social attention, forming a good momentum characterized by active government drive and capital input," Feng said.