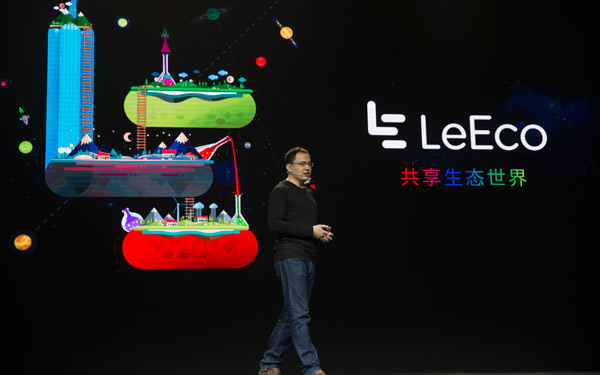 Ablikim Ablimit, LeEco's vice-president of strategic planning and management, delivers a keynote speech on Jan 12, 2015 during the company's new logo launch event held in Beijing. [Photo/Provide to chinadaily.com.cn]
Chinese Internet company LeEco, formerly LeTV Holdings Co Ltd, premiered its new brand and logo during the "Global Brand Upgrade" news conference held in Beijing on Tuesday.
According to the company, the new logo consists of the letters "L" and "E".
Each of the four strokes represents one of the four tiers of the Le Ecosystem -- Platform, Content, Device and Application. The dot formed by the overlapping of two strokes symbolizes the pivot of the entire ecosystem: EUI and Le Fans.
The connection and interaction between the letters "L" and "E" expresses the LeEco spirit of constant disruption, breaking boundaries and eco synergy.
The three colors of blue, red and green plus the all-inclusive color of grey represent the integration of technology, culture and the Internet within the Le Ecosystem.
During the event, LeEco also announced the name change of Letv.com to Le.com, the adoption of its new global top-level domain "le.com" and the launch of the all-new Super TV X65 at 4,999 yuan ($760).
According to Ablikim Ablimit, LeEco's vice-president of strategic planning and management, the current upgrade of the Le Ecosystem brand means that the company is looking beyond the Chinese domestic market to compete with global Fortune 500 giants such as Apple, Amazon and Netflix and is ready to make disruptive changes on the global scale.
"Based on vertical integration of the industrial chain and reconstruction of the cross-industry value chain, Le Ecosystem is an open-ended, closed-loop ecosystem that combines a platform with content, devices and applications," wrote Jia Yueting, the chairman and founder of the company, in an article on China Daily website in last December.
Going global
In September, LeTV Sports, one of the company's subsidiaries, announced that it had won a three-year contract to broadcast the English Premier League in Hong Kong from the 2016/2017 season. The $400 million deal is believed to be the first step in the company's "go global" plan.
According to Mo Cuitian, LeTV's vice-president and Asia Pacific executive president, the company is working hard to prepare for the launch of its products in India.