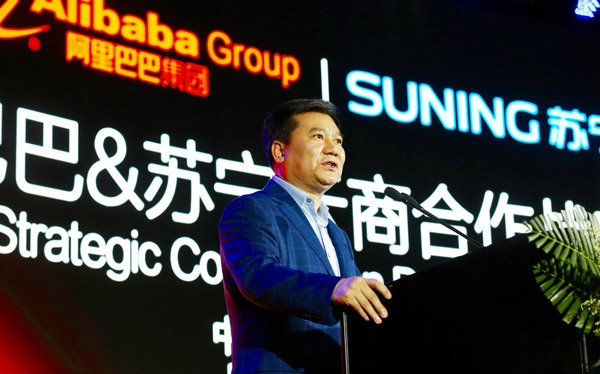 Zhang Jindong, Chairman of Suning Appliance Co Ltd, delivers a speech at a press conference for the strategic cooperation between Chinese e-commerce giant Aliabab Group and Suning in Beijing, China, 1 June 2016. [Photo/IC]
Taobao, an online platform of Alibaba Group Holding Ltd, has acquired 1.861 billion shares from Suning Commerce Group for 28.2 billion yuan ($4.28 billion), making it the second-biggest shareholder of the country's largest home appliances retailer with a stake of just under 20 percent.
That's according to a statement made by Suning on Thursday which saw its stock price advance strongly.
Suning's share surged 6.24 percent on Friday to 11.75 yuan per share.
An initial announcement concerning the two groups was made public in August. As a further sign of the two companies integrating their online and physical store-based shopping businesses, Suning said the company would invest 14 billion yuan to acquire a 1.1 percent stake in Alibaba.
Taobao's acquisition price is 15.17 yuan per share while Suning's current share is priced at 11.06 yuan.
That is 27.1 percent lower than acquisition price, indicating a loss of more than 7.6 billion yuan for Taobao's deal.
Suning said the money raised from this acquisition will be used on development of logistics platforms and Suning's cloud store projects.
A total of 8.73 billion yuan will be used on logistics and distribution projects and 10 billion yuan on cloud store projects.
Alibaba has achieved annual revenue of more than 3 trillion yuan, while Suning owns more than 1,600 stores nationwide and 5,500 service network outlets.
The two retail titans announced an alliance with home appliances brands on Wednesday to stimulate their sales.
With Alibaba's nearly 700 million users and Suning's 1,600 physical stores, selling baby products to appliances, the new model will help the brands with resources in big data, logistics and sales.