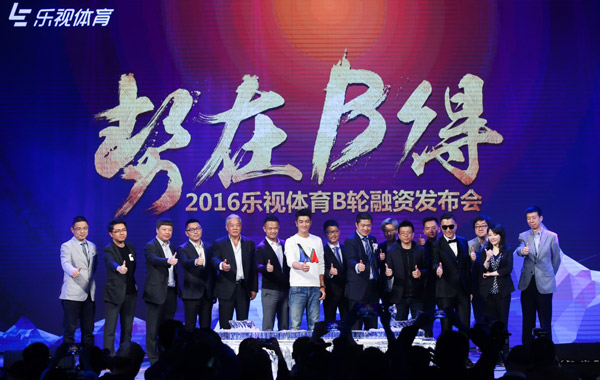 Representatives of investors pose for a group picture on April 12, 2016 during the Round-B financing press conference held by LeSports in Beijing. [Photo provided to chinadaily.com.cn]
LeSports, the sports arm of Beijing-based internet company LeEco, has set a new record by raising 8 billion yuan ($1.2 billion) in Round-B financing, it said at a news conference in Beijing on Tuesday.
According to the company, this is the biggest amount ever raised by an internet-based sports firm.
LeSports joins the illustrious list of internet companies, which include Facebook, Uber and Airbnb, that have raised more than $1 billion in a single round. From 2010 to October of 2015, only 10 companies managed to reach that amount.
More than 20 institutional investors, led by HNA Capital and Zhongze Culture Investment, joined the financing round, as well as a collection of individual investors including Chinese TV celebrities Sun Honglei, Liu Tao and Chen Kun.
HNA Capital and CAISSA Touristic (Group) AG joined the Series B round through Jiaxing Fund with an investment of 1.2 billion yuan.
Series A shareholders such as LeEco Group and Fortune Link also increased their shares, contributing to the total fund of 8 billion yuan and lifting the company's valuation to 21.5 billion yuan in total.
Lei Zhenjian, founder and CEO of LeSports, said after the new round financing, LeSports will further accelerate the development of its sports ecosystem and promote internal synergy through leveraging content and expanding the user scale.
According to Lei, LeSports will provide a diverse range of sports-based consumer products -- including betting, lotteries, ticketing, e-commerce and gaming.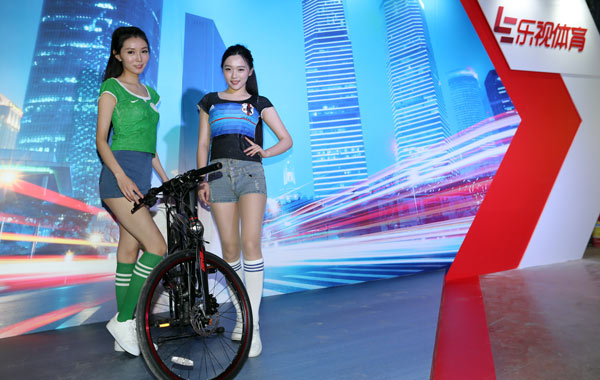 Models pose with Le Super Bike during the Round-B financing press conference held by LeSports in Beijing on April 12, 2016. [Photo provided to chinadaily.com.cn]
"In 2016, LeSports will continue to strengthen its efforts in developing and manufacturing smart devices. Apart from launching the new generation Le Super Bike, by the end of the second quarter, we will also complete R&D into smart camera that incorporates a comprehensive camera ecosystem and live streaming software," said Lei.
Lei also said the company plans to set up its second headquarter in Silicon Valley.
"The decision to invest in LeSports was not made based on financial considerations alone. Tourism and sports are natural partners," said Li Mingbi, chairman of HNA Capital. "We look forward to more comprehensive partnerships in sports and tourism intellectual property and internet sports marketing."
Chai Sen, chairman of another investor -- Zhongze Culture Investment, said that reviving the sports industry is a key component of the country's new economic plan.
"We want to assist in its rise and support the global development of China's sports industry with our international resources. Our two companies will also cooperate in developing drones and other products," said Chai.
LeSports' Series A round wrapped up last May after securing 800 million yuan in funding.