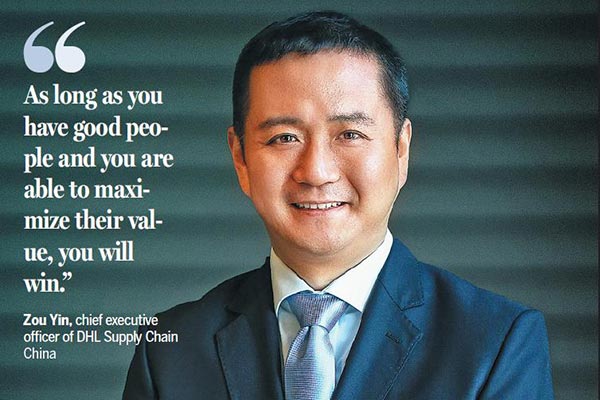 DHL Supply Chain eyes massive size so it could support industry development
An interview with Zou Yin, the low-key chief executive officer of DHL Supply Chain China, is a rare event. He does not grant many these days. Only those executives who are on the lookout for a new job readily offer media interviews, he jokes.
He is energetic, handsome, and shy, like people of his ilk from East China. His quick responses to questions suggest Zou's understanding of the logistics business is deep, and that he is very confident about its future prospects.
Some Western humor punctuates his discourse, probably a result of his long work experience in Germany. The two paintings in his office indicate his affinity for Oriental aesthetics, particularly traditional Chinese culture. The one behind his back shows mountains under a clear blue sky. The other depicts a vibrant ocean.
The two paintings vis-a-vis the room's layout are consistent with fengshui. They symbolize support from back and opportunities ahead respectively, he said.
But it would be a folly to attribute the success of DHL Supply Chain in China in the past few years to Zou's office fengshui alone. His deep knowledge of the market and a unique management style are contributory factors.
"The logistics industry is highly competitive. So there is no secret recipe. As long as you have good people and you are able to maximize their value, you will win," he said.
For Zou, the maturity of his team is his greatest achievement so far. He does not believe in rigid control of employees. Instead, Zou adopts a rather loose management of people.
He said he never expects a young person to work for DHL his whole life. What he wants to see is the young employee's value improving during his time with the company.
DHL Supply Chain being part of the German group, hierarchy remains important. This means, people at different levels need to work within certain boundaries and abide by certain rules.
But in the company's Shanghai office, Zou's door is always open to all employees. As long as an employee has an idea to contribute, he/she is welcome to walk in to Zou's office any time, regardless of his/her level in the hierarchy.
"I always feel like I'm a public servant to my colleagues, that I need to solve all of their problems," he said.
Logistics is traditionally seen as a low-profile industry. So, it's not easy to attract top talent.
"I want to change this. We want to grow to a size by which we can support industry development, to make the industry attractive to candidates in the market," he said.
Steady growth is a priority for the company. By 2020 the company expects to have set up another six logistics centers in Guangzhou, Hangzhou, Wuhan, Shenyang, Shenzhen and the China (Shanghai) Pilot Free Trade Zone, bringing its total national warehousing capacity to 1 million square meters. So, it is targeting business not only from existing customers, who are mostly multinational companies, but Chinese firms. Most of its customers have been clients for more than 15 years.
"Out partnerships are probably longer than the average time a new-age marriage lasts now in China," said Zou..
Over the past few years, DHL Supply Chain in China has seen many of its customers, particularly those in the technology and automotive industries, move up the value chain.
"We have also seen domestic manufacturers, which are also leading brands, move up the value chain. They are starting to offer really good brands and premium products. They are upgrading their manufacturing capabilities. So, we are adding value to their integrated supply chain operations, particularly for high-end manufacturing industries in the electronics business," he said.
Zou said he recently had a chat on the subject with a senior vice-president at a top Chinese telecommunications company based in Shenzhen. It appears Chinese manufacturers are changing their supply chain model, he said.
From focusing on a low-cost supply chain model, they are looking for alternatives in the market. They want to hit the ground running in all markets with a new product, he said. They are willing to invest more in supply chain to ensure their products reach consumers in time.
"The internet helps bridge the gap between demand and supply. People want products delivered within a very short time. So, more manufacturers have to change their supply chain model, and build it according to demand," said Zou.
BIO
Year of birth: 1976
Work experience: He has been with DHL for over 12 years, during which time he has held management roles in Europe, the United States and China, covering commercial, strategy, shared services and operations.
Education: He graduated from Peking University with double major degrees in chemistry, economics, and a minor in law. He also received an MBA from the University of Oxford.
Interests: Badminton, swimming, history and traditional culture.