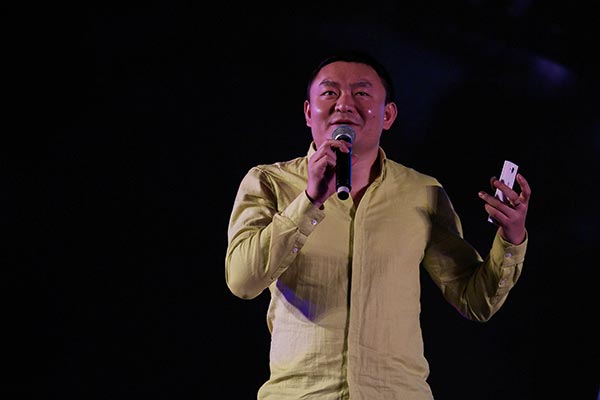 Dakele Chief Executive Officer Ding Xiuhong attends a business event in Beijing, March 1, 2014. [Photo/VCG]

The sizzle is beginning to fizzle as smaller players throw in the towel
The startup Dakele looked pretty smart when it released a phone in China four years ago. The market was doubling annually, and the company put brand-name components inside a device that cost a fraction of the iPhone.
That $160 gadget went on sale just four months after Dakele opened its doors, and soon the company, which translates as "Big Cola," made inroads against Huawei Technologies Co and Xiaomi Corp. Buzz was building for the Dakele 3 model last year, with online reviews calling it the best Apple Inc clone.
Then the sizzle started to fizzle. Huawei spent $300 million on marketing, Xiaomi cut prices and clones of the clone appeared. Troubles with a supplier and raising money prompted Dakele to shut down last month-and it likely won't be alone.
China's herd of 300 phone makers may be halved in 12 months by competition, a sales plateau and economic growth that's the slowest in a quarter-century, according to executives and analysts.
"The mobile-phone industry changed more quickly and brutally than expected," Dakele Chief Executive Officer Ding Xiuhong said on his Weibo messaging account. "As a startup, we couldn't find more strategies and methods to break through."
Smartphone sales in China exploded earlier this decade as incomes rose, prices for chips and displays plummeted, and carriers offered arrays of discounts. Shelves were flooded with hundreds of brands-from national heavyweights Huawei, Lenovo and Xiaomi to the smaller Dakele, Tecno Mobile and Gionee.
Shipments more than doubled in each of the three years ending 2012, according to researcher Canalys. Xiaomi's valuation rocketed to $45 billion, and the phone maker started selling devices in India, the world's fastest-growing major economy. Lenovo Group Ltd spent $2.91 billion to acquire Motorola Mobility to help make it "a global player".
In 2011, only four of the top 10 vendors in China were domestic. Last year, there were eight.
Now that wave has crested. Smartphones no longer are novelties in China, and most domestic brands target the mid- and low-price ranges, where buyers don't upgrade as frequently as those for high-end Apple and Samsung Electronics Co phones.
Jack Ding has been selling phones and accessories in his shop on Beijing's Third Ring Road for about two years. He has about 20 different models on display, predominantly local brands such as Huawei, Lenovo and ZTE. Yet they're not moving that well.
"I don't count on selling phones to make money," he said. During a 20-minute stretch, only one customer came in-to buy a 120-yuan ($18.50) memory card.
China's economic growth also slowed, with last year's rate being the slowest since 1990. China smartphone sales last year grew by 2 percent-the lowest ever recorded by Canalys. In 2011, that rate was 150 percent. The cumulative effect may be that about half of all Chinese vendors get swamped, said James Yan, a Beijing-based analyst at Counterpoint Research.
"The market (comprising 300 phone makers) will consolidate to about 150," Yan said. "Some small players will survive but many, like Dakele, will go bankrupt."