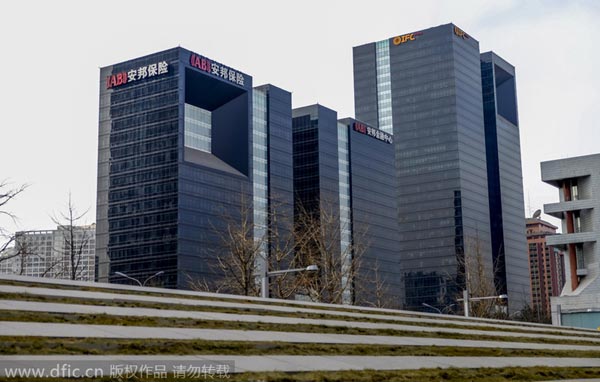 View of the headquarters of AnbangInsurance Group in Beijing, China, Feb 1, 2015. [Photo/IC]
Low funding cost encourages cash-flush companies to go on an M&A spree
Overseas insurers are increasingly noticeable on the shopping list of acquisition-minded Chinese companies whose recent buying sprees globally have driven the country's outbound mergers and acquisitions to a record high.
Since last year, Chinese companies have announced at least nine M&A deals for overseas insurers. The total deal value (both pending and completed) exceeded $8.4 billion, up 280 percent from China's total outbound insurance M&A value in 2014, according to financial data provider Dealogic.
The global insurance sector could be the next target of Chinese capital. China is already the world's leader in technology M&As, analysts said.
"What we are seeing now is just the beginning and such a trend will continue in the future," said Wang Guojun, an insurance professor at the University of International Business and Economics in Beijing.
The trend highlighted the ambition of the cash-rich Chinese conglomerates such as Anbang Insurance Group and Fosun International Group to build an insurance-driven investment empire, inspired by the principles of US billionaire investor Warren Buffett.
The focus on insurance also reflects the shift in China's overseas M&A activity from energy and resource industries to service and consumer-centric sectors.
The most recent deal is Anbang's purchase of Allianz Life Insurance Korea and Allianz Global Investors Korea, the South Korean operations of German insurer Allianz SE.
It was the second time for Anbang to acquire a South Korean insurer as it bought a controlling stake in Tongyang Life Insurance Co for $1 billion last year.
Beyond Asia, Anbang has also expanded its presence in the US and European markets in a slew of high-profile deals, including its agreement to buy US insurer Fidelity & Guaranty Life for about $1.6 billion as well as its purchase of Dutch insurer Vivat last year and Belgium insurer Fidea in 2014.
Another major active Chinese acquirer is Fosun, which has spent more than $5.7 billion buying insurance assets over the past two years. Prominent deals included Fosun's $1.84-billion purchase of an 80 percent stake in US insurer Ironshore Inc last March and its $1.5-billion acquisition of Portugal's largest insurer Fidelidade in 2014.
Simon Harris, managing director for global insurance and managed investments at global ratings agency Moody's Investors Service, said that the M&As are attractive because of a combination of economics and favorable asset prices.
He cited low funding cost and depressed insurance asset prices in some markets as reasons for the latest wave of Chinese M&As in insurance.
The moves by Chinese companies came at a time when overseas insurers, in particular those in Europe, are struggling with stricter regulatory requirements as well as a low interest rate environment, which adversely affected their investment returns. For, they often invest heavily in fixed-income assets.
German insurer Allianz decided to spin off its South Korean business and sell it to Anbang after the insurer suffered a $277-million loss on the South Korean life and health insurance unit last year.
Analysts said the M&As could also be fueled by the desire of Chinese companies to diversify their investment into global markets against a weaker renminbi and the intention to gain more low-cost capital through the expansion of the insurance business.
"In the case of Fosun, insurance can offer a long-term and low-cost channel to gain capital so that it can reinvest the premiums to feed its other business which could yield higher returns," said Zhao Shasha, an insurance analyst at Huarong Securities Co.
Meanwhile, other Chinese investors have joined the acquisition spree to take advantage of China's growing demand for overseas insurance products.
JD Capital, a Beijing-based private equity firm, has offered to buy the life insurance operations of Hong Kong-based financial group Dah Sing Financial Holdings Ltd, Bloomberg had reported citing people familiar with the matter.
The report said the deal reflected JD Capital's plan to unlock the value of the business at a time when Hong Kong insurers are seeing big increases in product demand from the Chinese mainland.
But analysts warned the latest insurance M&A deals could bring new challenges such as low interest rate exposure, volatile business conditions and growth pain.
"The targets are in large markets but these targets sometimes exhibit modest market positions," said Harris at Moody's Investors Service.
He noted the M&A activities would continue but they will likely be at a slower pace in the coming years.
Just how increasingly prudent and cautious Chinese companies are is illustrated by Fosun's termination of its $462-million purchase of Israeli insurer Phoenix Holdings Ltd in February. Fosun attributed the termination to global market turmoil.
Some analysts speculated the cancellation may indicate the intention of Fosun to reduce its leverage and improve its investment rating after the rapid sprawl of its investment in international markets. Others said the shift toward a more prudent investment strategy may have to do with the detention of Fosun's chairman Guo Guangchang who was later released.