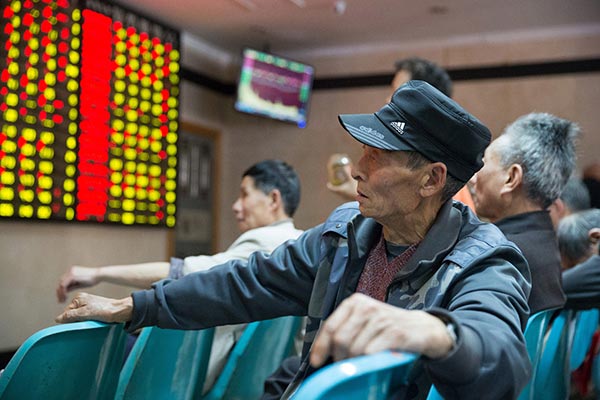 An investor of Nanjing keeps a close eye on the performance of his stocks. China's A-share market experienced a sudden drop of 2.31 percent on Wednesday. SU YANG / FOR CHINA DAILY
While the Chinese economy has shown signs of stabilizing in the first quarter, analysts warn the stock market may be reaching a seasonal peak.
They have advised investors to trim their positions in order to guard against the risk of rising volatility.
China's A-share market experienced turbulence last week with the benchmark Shanghai Composite Index hovering around the psychologically sensitive level of 3,000 points. The sudden single-day decline of 2.31 percent on Wednesday triggered fears and selling pressure in the market.
"It appears we are nearing the point where things are as good as they get for the first half of 2016: China's growth is stabilizing, so is the renminbi's exchange rate to the US dollar and capital outflows, while consensus forecasts show low likelihood of a June Fed rate hike," Wendy Liu, chief China strategist at Nomura Securities, said in a research note.
"We recommend investors taking some money off the table. In the coming months, the rising defaults among private and State-owned enterprises and the closure of zombie companies as part of supply-side reforms, could raise headline risk," Liu said.
Hong Hao, chief strategist at investment bank BOCOM International Co, said the economic fundamentals can improve in the near term but the stock market rally has been stretched and the risks are escalating.
"Improving liquidity, stabilizing growth and previously extremely oversold conditions are a potent combination for a strong technical rebound. But their strength should not be mistaken for sustainability or for a renewed growth cycle," he said.
Tu Jun, an analyst at Shanghai Securities Co, said the change in investors' expectation for liquidity and inflation is the key factor that will anchor the future movement of the market.
"The momentum of the market rally has been decelerating after the massive liquidity injection and the improved economic growth driven by real estate and infrastructure investment in the first quarter," he said.
But he noted that the sudden market slump on Wednesday signaled the start of a "mid-level correction" rather than the beginning of an extended decline.
Market optimist Ren Zeping, chief investment strategist at Guotai Junan Securities Co, said: "Investors should grab the trading opportunities in the spring as April and May tend to offer a good window opportunity with improved economic activity and supportive government policies."
Ren said earlier this month that the A-share market could rise as much as 20 percent from the current level. He is one of the first Chinese analysts to make such bullish remarks since the benchmark Shanghai index began moving sideways around the 3,000-point mark a few weeks back.