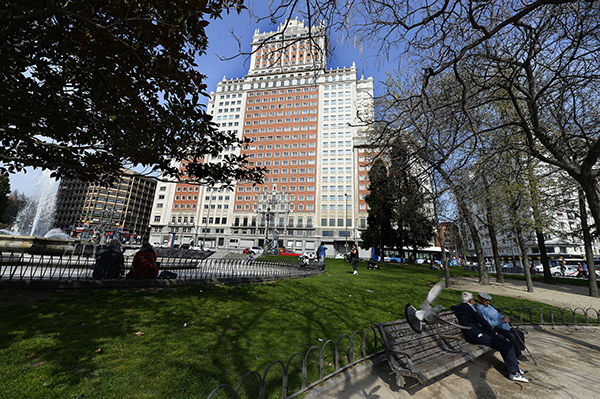 The Edificio Espana building on the Plaza de Espana square in Madrid was bought by Dalian Wanda Group in 2014 with a plan to upgrade it to a high-end office-and-hotel complex. [Photo/Agencies]
Experts say leveraging HK's strengths, hiring foreign professionals and localization could help
Overseas-bound Chinese companies, particularly property majors, can avoid various kinds of troubles by taking some simple measures, experts in Hong Kong said.
One of the steps that would help is hiring foreign professionals to help manage overseas assets.
Localization would be another step. Localization, they point out, is still a key challenge faced by Chinese companies internationally even though the country launched its "go global" strategy for its enterprises a few years back, to boost overseas investment after the 2008 global financial crisis.
They remain optimistic about the future of Chinese outbound deals, but suggest the mainland's companies should leverage Hong Kong's strengths in professional services and international orientation to help tackle problems abroad.
Many developers from the mainland would buy foreign assets and hold them directly, said Francis Li, international director and head of investment advisory services of DTZ/Cushman Wakefield, a leading international property services firm.
"The biggest problem then may be that the majority of the team is still in the mainland. Do you have a local team to manage (the assets)? Or, do you do it through fund and asset managers locally? Can you get the local situation in control?" Li said.
"Initially, when foreign funds come to China, they normally invest at the so-called fund level. They invest indirectly, through funds," he said.
Chinese property developers have "suffered a string of setbacks" in overseas building projects, highlighting the cultural and operational challenges these groups face working in unfamiliar territories, the Financial Times reported on June 1.
The report included Wanda Group's plan to sell a building it bought in 2014 initially for redevelopment in Madrid, Spain. Wang Jianlin, owner of the group and Chinese mainland's richest man, shared with China Central Television the treatment his group received from the newly elected Spanish government.
Greenland Holdings, based in Shanghai, also ended its relationship with Sydney-based engineering group Brookfield Multiplex in late May for "failing to reach an agreement on commercial terms to build Sydney's tallest residential tower", the FT reported.
Country Garden, another big Chinese developer active in Australia, recently said that planning delays and difficulties in dealing with local councils in Sydney had delayed its pace of investment.
Foreign property investment by Chinese firms reached $25.1 billion last year, up almost 0.5 percent from 2014, according to JLL, a global property advisory group.
Li said Hong Kong, with its strength in professional services, could be "a very good base when our companies go abroad", adding Asia's global city could also help the mainland's investors address culture and language gaps in international markets.
Honson To, co-chairman of accounting firm KPMG China, said he is also seized of Chinese companies' difficulties in managing overseas teams and overseas operations.
"They are still relatively inexperienced in operating international and global business," To said in an earlier interview with China Daily. "Sometimes, it's language, sometimes it's the way of living, sometimes it's down to a lack of confidence because Chinese businessmen were not educated in an international environment. So they don't know how other people operate."
To, who has spent years on advisory services providing M&A advice to clients, sees culture clashes as a key challenge for Chinese companies abroad.
But he is confident of change when Chinese companies hire foreign professionals to oversee their operations.
To also expects China's outbound investment to diversify from focus on mainly acquiring natural resources to other sectors including infrastructure, manufacturing technology and service industries, in addition to property deals.
"Infrastructure along the Belt and Road strategy will be a key theme. It could be acquiring companies overseas by the Chinese infrastructure companies. It could be more collaborations with overseas countries in building infrastructure," he said.