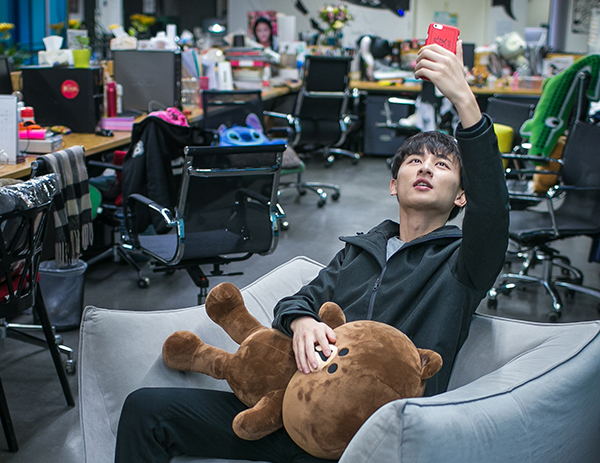 A young man makes a live-streaming show of himself at his office. [Chen Zhongqiu/For China Daily]
A young and good-looking woman with a pale skin was eating a slice of pizza in a noisy restaurant and talking about what brand of mascara she was wearing.
A young man was singing cheesy pop songs in his bedroom, pausing from time to time to thank people for offering him virtual gifts and cash-filled electronic red envelopes. He pocketed 3,000 yuan ($457) in less than 30 minutes.
This is the world that exists in the popular live-streaming apps on our mobile phones.
After hearing friends talking about how popular live-streaming apps are and reading news report about how the nascent and yet booming industry has generated wealth and fame, I decided to give them a try.
After I tuned in, I found that I could hardly engage with any of the streams. I kept browsing and switching from video to video, hoping to find something interesting or meaningful. Disappointed, I found that the content was often boring, meaningless and seedy.
But what is substantial is the money-making phenomenon. Many of the hosts with millions of subscribers have turned into cyberspace stars and they could effortlessly draw hundreds of thousand viewers for a real-time night show.
Virtual gifting is one key to their success. Users of the apps could offer their favorite streamers virtual presents such as an image of a flower or a fancy Maserati, which can be converted into cash. The app companies and the site operators would get a hefty portion of the money.
The commercial effect has also drawn celebrities and star entrepreneurs to the industry. They take advantage of the apps to create celebrity-at-home appearances so that they can draw themselves closer to their fans and promote their businesses.
The fact that there are more than 200 live-streaming apps in the Chinese market shows how popular the industry is. Most of them emulated the Twitter Inc-owned Periscope. The valuations of some apps have exceeded $1 billion.
Despite the commercial success, I am still quite skeptical about live-streaming apps. Their proliferation reveals a sadder part of our life: While technology seems to shrink the world we live in, the mania for live streamers reveals how boring and lonely our urban life is.
One extreme case is that a pretty young woman drew hundred of thousands of viewers by live streaming her sleep.
The apps allow people to peek into the lives of total strangers regardless of their location and with little cost. They change our definition for privacy. They quench the thirst for a type of social interaction that would often create anxiety in the real world.
The apps have also sparked controversy for pornographic content and copyright infringement. So, the industry is already under stricter government scrutiny.
Technology can be both problem and solution. And I kept trying to think of a good use case for live-streaming apps.
It would be cool if I could randomly tune in a video and find someone live-streaming his or her travel to Antarctica or the magnificent pyramids in Egypt. I would also find it fascinating if a NASA astronaut made live broadcasts from the space.
But before any of that appears, I have already started deleting these apps. I thought they would add an interesting aspect to my life, but so far they only ended up making me feel so bored and overwhelmed.