Domestic camps for children rock too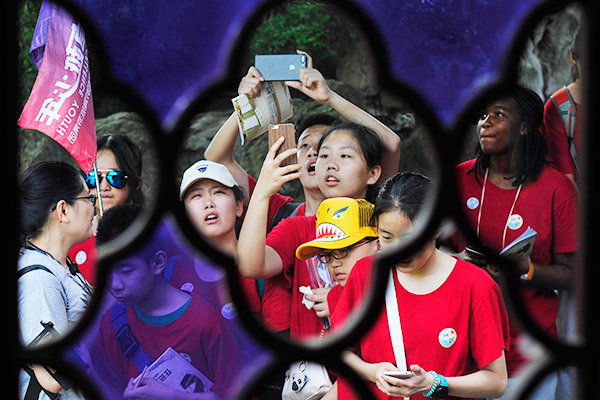 Primary school students who took part in a summer camp in Suzhou, Jiangsu province. [Photo provided to China Daily]
Come August, Li Kaikai, 8, who lives with his parents in downtown Beijing, will be off to a capital suburb to take part in a five-night, six-day science summer camp where only English will be the medium of communication.
The camp will set Li's parents back by 6,680 yuan ($980). It will cover subjects like virtual reality or VR, augmented reality or AR, 3-D printing and architectural design. It will also include social activities like pool-side parties, movies and games.
At the end of the camp, Li will be required to make a presentation on what he thinks of the city's future. Using sand, he will need to build and present a model of the city he visualizes.
The camp is one of many summer activities Li's parents have earmarked for him for the next two months. Compared with overseas summer camps that require people to travel long distances and afford high prices, domestic summer courses are popular among certain sections of the society, especially working parents.
Domestic camps, too, offer various courses with focus on subjects or themes like travel, child-friendly destinations, science, technology, English language and aerospace.
MoncyClub, an outdoor child center located at the Olympic Park in north Beijing, has developed a new summer camp this year, its second one since it was established last year.
The course includes drama, climbing, safety knowledge and music. It is taught by English-speaking teachers and professional tutors, all experts in one of subjects, said Kuang Xiaoyu, marketing director of the club.
"It's very hard for working parents to find an outdoor camp within the city with a structure designed for them to send in their kids in the morning and pick them up at night," she said.
Each camp lasts five working days, and takes in no more than 20 children. "We want to fill the gap in the traditional school education, which only focuses on knowledge rather than experience and practice that we provide here," she said.
Each camp costs 5,199 yuan upward. There are eight camps in two months.
Lin Jialu, a mother of a 7-year-old, sent her son to a military camp in Guangzhou last summer. The children there practised living like real soldiers. For the first time in their life, brats learnt to wash their clothes and clean their rooms.