When it comes bringing up baby, mummy knows best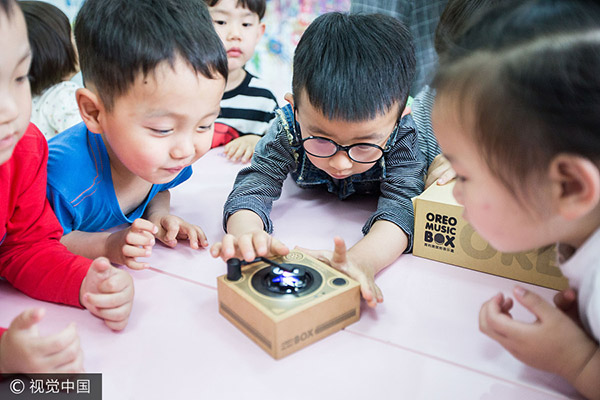 Children at a early-years education center in Hangzhou, Zhejiang province. [Photo/VCG]
I have a friend who is an advocate of early education centers and has signed up at five institutes for her son, who is four days older than my one-year-old boy.
Ever since he was six months old, he has already had swimming lessons on Mondays and motor movement class on Wednesdays. Each Tuesday he is taken to a music class and on Thursdays he has been attending a reading class since he was eight months old.
Friday has always been reserved for "brain exploration", including some "left and right brain" activities playing with objects such as blocks or beans for creativity, in an structured and methodical way, she told me.
Weekends don't mean a rest, as two baby yoga classes are on the schedule, rain or shine.
All of this doesn't come cheap, costing around 80,000 yuan ($11,700) every year, she said.
"But it's totally worth it, as the first few years are essential for a kid's development," she added.
I can't help thinking maybe the fact that I didn't come top in my exams in school or stood out among my peers was due to the absence of such a mix of activities in my early childhood.
Anxious that my son would not follow in the footsteps of my "failed childhood education", I signed him up for some classes.
I took him to a swimming class on a Saturday afternoon. Different from what I imagined before, the swimming was more of an exercise for me, holding an 11-kilo boy joggling up and down in the water, following the instructor's orders.
After the 45-minute session I was already exhausted, but my boy at least found it more fun than playing in the bathtub at home.
"Babies will love the water after a few sessions and will even be able to do some diving in the near future if you come regularly," the salesperson tried to persuade me.
I don't know if he will love the water or be capable of diving in the future, but what I do know is that he caught a cold after that.
So I decided to leave the scuba diving classes for him, maybe together with his girlfriend in Bali or Surfer's Paradise when he grows up.
I took him to a singing class after that. We both pretty much enjoyed the 45-minute session singing Old McDonald Had a Farm. The only thing I don't understand is why we can't do this at home.
According to a release by the National Health and Family Planning Commission, 18.5 million babies were born in China in 2016, with second children accounting for 45 percent, thanks to the recent relaxation of the nation's family planning policy.
Relaxation of the policy has also led to growth in sales of baby and children's products, including nappies, clothes and cribs, as well as a rise in early-years center admissions.
Total revenue from early-years education was 32 billion yuan in 2013 and is estimated to reach 100 billion yuan by 2020, thanks to the growing attention being paid to this by urban families, according to a report by an education company.
And it is estimated that the full implementation of the second-child policy will result in a baby boom between 2017 and 2019, which will further contribute to the consumption of baby-related products.
I don't deny that these classes are inspiring. However, with no industry standards, the quality of service varies greatly.
As early-years education centers are not yet part of the national education system, they are more business-oriented and not under the supervision of the country's education authorities.
So I dropped my fantasy about the early-years education centers and decided not to send my boy there.
Instead I try to learn some theories about Montessori training and take him to neighborhood baby meetings to encourage him to socialize, and take him to picnics to explore nature.
After all, no early-years teacher is better or more capable than a mother.