Home prices give the lie to notion of better future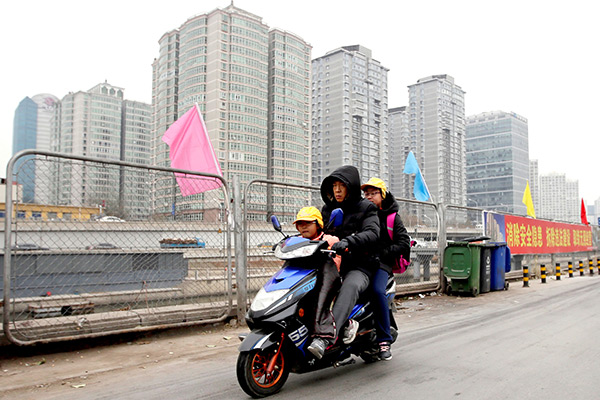 A man rides an electric bike, carrying children, near apartment blocks in Beijing. [Photo/Agencies]
A young colleague of mine told me the other day that one thing he is most proud of is his decision to buy an apartment in Beijing in 2012, two years after his graduation from university.
"In hindsight, housing price really hit a trough then," he said, referring to his purchase of a second-hand, 50-square-meter apartment within the city's Fourth-Ring Road at 26,000 yuan ($3,790) per square meter.
It turned out to be the most pivotal decision he had ever made. In less than five years, the price has nearly tripled, and the gain, though on paper, has made him the happiest man in the world.
A right decision can save you a lifelong struggle for a better life.
Despite rounds after rounds of cooling measures by the local government, such as higher down payment and stricter mortgage restrictions to curb speculative buying, housing prices in Beijing have been on a wild run. Average housing prices in the city reached over 60,000 yuan in February from 45,000 yuan a year ago, according to the China Real Estate Association.
But these figures hardly tell the real story of the red-hot sellers' market. To understand it, you need to look no further than my neighborhood. A moment of hesitation in sewing up a deal could make a difference of more than 1 million yuan.
A friend of mine, who had planned to move to my neighborhood, saw the price of a 105-square-meter apartment he wanted to buy surge from 8 million yuan before Spring Festival to the jaw-dropping 9.3 million yuan after the holiday!
Given that China's average disposable personal income was less than 24,000 yuan last year, it could serve as the most costly lesson a homebuyer could learn for procrastination.
"It's just absolutely crazy," he said.
No doubt.
Property prices in Beijing are skyrocketing at a rate that defies economic laws.
For economists, a price-to-rent ratio of more than 500 signals a property bubble that may bust at any time. It means one can recover the cost of investment in a property only 500 months (or more than 40 years) after it is rented out, without taking into consideration interest on bank loans.
But in Beijing, that ratio has surged above 1,000, with no sign of a respite, despite years of warnings of a coming market collapse.
China's property market is a conundrum beyond rational explanation. It has created an unbridgeable wealth gap between homeowners and non-homeowners. It has also transformed my outlook on life and success.
Enthusiastic about higher pay and better career prospects, my wife decided in 2001 to quit a government agency, even though that meant she had to give up a 60-square-meter apartment that her employer had just allocated to her.
She had my full support. We were young then, and both believed a place to dwell should never be an impediment to the pursuit of new life experiences and better future. The average housing price was 5,000 yuan per square meter then, less than our monthly salaries combined.
The following decade, my wife worked in Hong Kong for several years, graduated with a master's degree from a prestigious university in the United Kingdom, and resettled in Beijing, working for foreign-funded agencies and drawing a decent salary she had never imagined was possible when she decided to quit her first job.
For many, hers was a success story, as we also thought. But in terms of wealth, we actually missed a once-in-a-lifetime chance to get richer. The apartment she had abandoned 16 years ago is now worth nearly 6 million yuan, which dwarfs what she has ever earned.
Of course, there is more to life than just money. But had we known that this is how things might or would pan out, would we still agree on her decision to quit her job 16 years ago? I'm not sure.
In life, ideals, it appears, would crumble easily when confronted with harsh reality.