A few tips on how to improve service delivery quality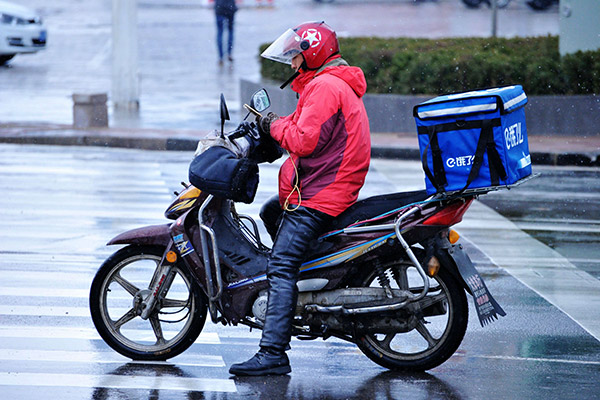 A food delivery man in Qingdao, Shandong province, checks his orders. [Photo/China Daily]
How many times in the past few months have you appreciated one of the greatest inventions of the 21st century-food delivery applications-for bringing some tasty meals straight to your doorstep on a cold and windy night?
I have expressed my gratitude for this invention from time to time, such as when I am snowed under with work, when I am too lazy to think of a place to dine out at, when I don't feel like going out because it is too cold outside, or when I want to stay on my couch and finish the rest of a TV series with a pizza.
All I need to do is open the application on the phone, and the dishes arrive at my door as if by magic.
When the doorbell rings and the delivery man appears at the door with the sizzling take-away boxes, I almost think of him as my knight in shining armor, coming to my culinary rescue.
I have seen a lot of people expressing the same feelings recently on social network applications. Sometimes they even left notes on their online orders, reminding the delivery guys that they do not need to hurry and to take good care of themselves on the road.
A growing number of people, including me, are choosing to reward these delivery men in a more practical way: tipping.
Some food delivery applications have already added such function, saying that the delivery man will get all of the tip, ranging from 1.1 yuan (16 cents) to 8.8 yuan for per order, or an amount the customer can decide for themselves.
Chinese normally do not have the habit of tipping. Before traveling overseas, some people will enquire if tipping is practiced in the country they are going to.
It is not until recently, with the growing popularity of high-end restaurants, that customers have come to realize that good service is worth some extra reward.
To me, it is a good start which shows some minor but interesting changes in the service industry. While some of us used to think that the "customer is always right", it is good to see that some companies are taking the lead and trying to educate consumers in better ways to behave,
Shortly after the Spring Festival holiday ended, many courier companies encountered labor shortages as many couriers could not tolerate their low wages and chose to work for food delivery companies. But basically, these two jobs have a similar theme: delivery.
So the question is: if we can tip the food delivery workers, why can't we tip couriers likewise? I guess most of us cannot live comfortably without online shopping nowadays.
And many times, I have also appreciated the couriers for delivering on time goods I needed urgently. If we can do the same thing for couriers, their income will be increased accordingly. But more importantly, these couriers would come to understand that their work is appreciated.
As China is moving up the value chain and calling for an economic transformation which attaches more importance to the service industry, it should be noted that the feelings of users when being offered services makes the biggest difference.
But when the service provider has the feeling that his work is worthy of appreciation and even applause sometimes, he can better deliver the service. Government, companies and consumers should all work together to ensure such a virtuous cycle is created so that the overall service quality can be enhanced and the industry gets on the right development path.