How to turn 'wasted' time into learning time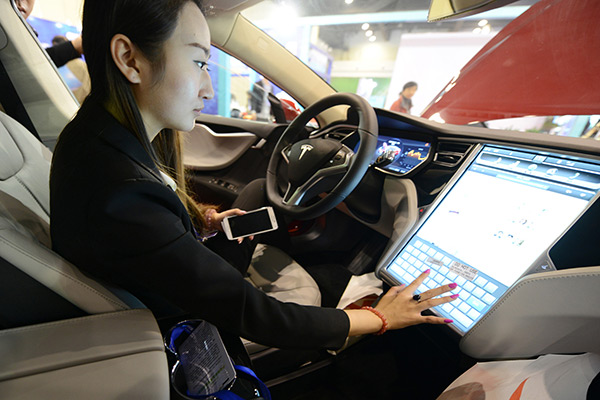 A woman tries internet radio at an industry expo in Zhengzhou, capital of Henan province. [Photo/China Daily]
It's been more than a decade since I started spending two hours every day commuting between the office and home, either driving or riding the metro.
How to add more value to the routine two-hour journey is something that is often on my mind. Otherwise, I would consider the daily commute to be a massive waste of time. Two hours every day means 10 hours a week. That's 40 hours a month, equal to an average working week.
I never drive without the radio on, listening to the news on my way to the office in the morning and switching to the music channel while heading home.
Being fed up with the rising number of commercials and the frequent nonsensical chatter of the DJs, I keep switching among three of my favorite channels, FM90.0, 97.4 and 88.7, which all feature music.
Traffic jams are a curse to commuters but a blessing to the radio industry's growth. China's radio industry earned 16 billion yuan ($2.3 billion) in advertising revenue in 2014, up 14.3 percent year-on-year. The figure was 13.43 billion yuan in 2015, with growth momentum outperforming other forms of conventional media such as TV and newspapers.
Being a picky listener, I finally turned to internet radio, first as a free user, and now I pay for the content.
According to Forbes, internet radio is the next big thing in media, due to the personalized listening experience it offers and its precisely targeted advertising, thanks to the big data era and the widespread use of smartphones around the globe.
About six months ago, I had my first experience of internet radio, featuring a wide range of selective content, via an app called Tingshubao.
The very first audio program I downloaded for free was called Huangdi Neijing, a classic created around the time of the Qin Dynasty (221-206 BC).
The program, in the form of talk show by a TCM professional and a famous TV anchorman, is broadcast in the style of serious lecture with a humorous touch. Through this, I have learned a lot both about healthcare and ancient Chinese philosophy.
My second experience was listening to business-related serials. Not long ago, I read a book featuring the ups and downs of Chinese companies and entrepreneurs from 1978 to 2008, the first three decades of China's reform and opening-up. It was written by renowned business columnist and investor Wu Xiaobo. His way of telling stories about the growth of companies, featuring a series of milestone events, enhanced my understanding that the strength of individual companies reflects the overall strength of the country's economy.
Then I began to follow him on his public WeChat account, Wuxiaobo Channel. At the top of the page, there is a link to an audio program with a short line reading: Pay 5 jiao every day to get an in-depth analysis of major business events.
I read his columns a lot, all free of charge on WeChat, but have yet to click on the audio link. To be honest, I really want to know what he has to say.
The other day, I found some of his audio programs, at least 50 episodes, were all available for free on Ximalaya, one of China's best-performing internet audio sharing platforms. Ximalaya received 60 million yuan in a series-C round of funding in June.
Listening to Wu Xiaobo has been my favorite "entertainment" while driving to my office in the past two months. Listening to his analysis of up-to-date hot business events and policy reviews mixed with his personal investment stories, is like having an nutritious and delightful breakfast before I start to work.
Last week, I took an even bolder step to get quality radio programming. I spent 99 yuan to download a series of lectures on Dream of the Red Chamber, a Chinese literature classic also called Story of the Stone. It has so far notched up around 2.5 million downloads on Ximalaya.
Jiang Xun's lecture opened a brand new world for me to review this classic novel, which I read only once when I was 17. He provides multilayered perspectives that help understand the classic work. It's about youth, romance, human nature, management, traditional Chinese cultural, customs and philosophy, a comparison of fairy tales between the East and West and the fall of major families.
The series of lectures on the 80-chapter novel consists of 160 episodes, or 160 hours. So far, I'm at chapter 12. I can't wait to listen to the rest of it.