Tongyang success teaches how to save a business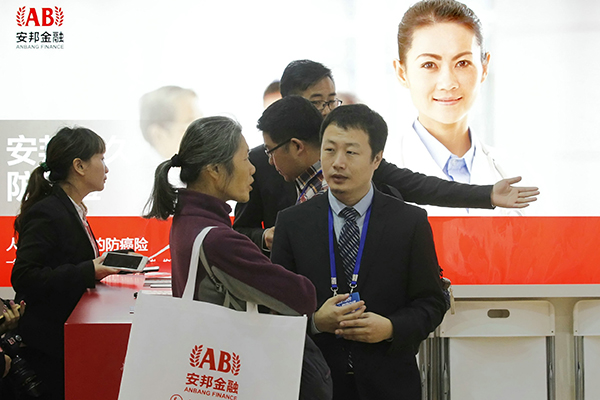 The stand of Anbang Insurance Group at an industry expo in Beijing. [Photo/China Daily]
About a month ago, I got a chance to visit Tongyang Life Insurance, the South Korean insurer acquired last September by China's Anbang Insurance Group.
The visit, although very brief, offered me a peek into one of the biggest and yet most mysterious financial conglomerates in China and the way it manages its overseas subsidiaries.
During the visit, I was briefed about how the South Korean insurer has managed to achieve a dramatic improvement in its business since Anbang took over.
The South Korean insurer saw its sales revenue soar 77 percent in the first half of this year while its net profit reached a record high of $136 million. The gratifying result was achieved while the South Korean insurance industry was struggling with a low-interest rate environment.
Though Anbang maintained that it intended to ensure the stability of Tongyang Life's management after the acquisition, anyone who has some idea about M&A deals would know that no dramatic business improvement can come without bold reforms. And I wondered what "magic" Anbang did to the South Korean insurer.
I asked a senior South Korean executive of Tongyang during a meeting what he thought was the biggest change at his company after it was sold to Anbang.
"It is cost control. It is tough, as if we are in an army," he said. "Another thing is that age no longer matters, it is one's ability that counts."
Reducing cost and being profitable have been high on Anbang's agenda after it took over Tongyang Life. It established a special committee for budget control to ensure that costs are tightly monitored while maintaining the quality of its services and products.
The Chinese insurer also broke the highly hierarchical corporate structure of Tongyang and introduced a flattened structure with greater emphasis on capability rather than age and seniority.
When asked about Anbang's management concept, a Chinese executive borrowed the term "democratic centralism" from China's political system to describe how decisions are executed at Tongyang Life.
Younger employees are given a greater voice and role in the process of executing a decision or strategy and all levels of employees and management will be involved if a problem arises with a certain product.
I wish I could have had more time for conversation with the Chinese and South Korean executives at Tongyang Life as it is good case study of the ongoing internationalization of Chinese companies, one of the most striking economic developments in the global economy.
Anbang and other aspiring Chinese companies are relative newcomers on the global stage and there are still many questions surrounding themselves and the way they approach their overseas investment.
The case of Tongyang Life provided a window for outsiders to get some insight into the mindset of ambitious Chinese companies that are leading the latest trend of globalization and are starting to show their muscle through a string of high-profile international deals.
Chinese companies like Anbang may not be the followers of those conventional principles in the textbook when it comes to choosing their M&A targets, managing the local workforce and executing post-merger integration strategies.
The conversation I had with Chinese executives at Tongyang Life gave me an impression that they are sharp and pragmatic with an acute business sense and a strong willingness to embrace new technology and economic trends.
It is still too early to conclude that Tongyang Life is a successful M&A deal. But it is fair to say the case served as a positive example of Chinese companies like Anbang beginning to acquire more organizational and post-merger integration skills.
In their quest to expand their global presence, Chinese companies are not just pouring out capital but also their corporate culture and management philosophies, some of which could sometimes appear unconventional to the Western world.
The good thing is that along this process the world will get to know more about these Chinese buyers, and mystery and misconception about them may also begin to dissipate.
Better understanding and more insight about the motivation of their deal making and their post-merger practice would help clear unnecessary hurdles for the Chinese companies along the way. Hopefully this will in turn help them go global in a smarter and more effective way.