Poodle care proves to be perilously expensive proposition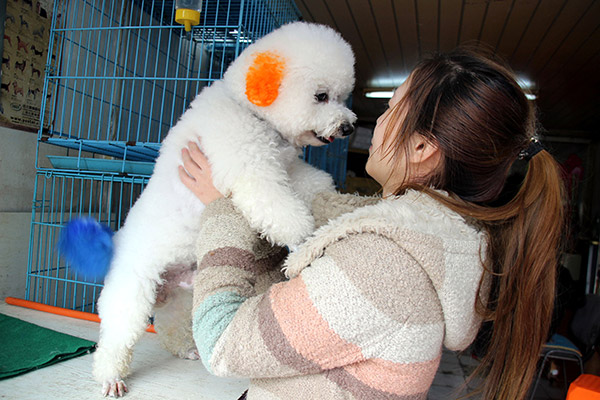 A woman says goodbye to her dog at a dog kindergarten in Suzhou, Jiangsu province. [Photo/China Daily]
One of my friends has had a poodle called Snow for years. It recently gave birth to four puppies, and she asked if I would be interested in having one.
"It's not much work taking care of a puppy, all you need to do is walk and feed him," she said.
But she was also quick to add: "For Snow, I just buy imported dog food since I have no time for cooking, that costs 1,000 yuan ($145) a month including snacks. Her liver is not functioning well, and the doctor has prescribed some liver supplement health products, which cost approximately 300 yuan a month."
I hesitated.
"It's getting more convenient to keep a pet now unlike before. There are pet hospitals everywhere and if you need to leave town, just find a pet-sitting place for 200 yuan a day and she'll be taken good care of. Oh, by the way, dog clothes shops totally blow your mind and the vests are just adorable."
"You can also take him to dog cafeterias when he's older. There are also dog social networks, dog swimming pools, bring-your-dog cinemas and bring-your-dog bars, and a dog kindergarten too."
Stunned, I turned down the offer.
According to market research firm Euromonitor, some 30 million households, or nearly 7 percent of the nationwide total, owned a dog in 2015.
The National Bureau of Statistics said China is the third in the world for dog ownership, behind only the United States and Brazil.
Total consumption in the pet industry on the Chinese mainland reached 97.8 billion yuan in 2015, and is likely to surpass 200 billion yuan by 2020.
Multinationals including Mars and Nestle all want a piece of this big pie, while some domestic dog food brands like Nory Pet, Aojia and Nusunpet are also vying for a share.
Dog food sales alone are expected to almost treble to over $760 million by 2019, Euromonitor data show, as increasing disposable incomes make keeping a pet an affordable luxury for more Chinese, especially in more developed cities.
A friend of mine, Chen Yu, a 37-year-old doghouse owner in Hangzhou, said raising a dog is more of a symbol of success and wealth for many Chinese, especially purebred dogs.
My neighbor recently bought a pet insurance for her Akita dog and signed up for a dog kindergarten for him in the daytime when she's at the office, which is what I'm already about to do for my 10-month-old son.
The Akita that have origins in northern Japan have become very popular with Chinese thanks to their mild temperament and being loyal to their owner, he told me.
A purebred dog costs some 30,000 yuan and most of the queuing buyers are wealthy couples with no kids or single females, said Chen.
Obviously raising a dog is not just about feeding, walking and cleaning up after them. As a mother and working professional, I simply cannot afford to have a dog, no matter how good it may make me feel.