Ups and downs of international brands point way, teach lessons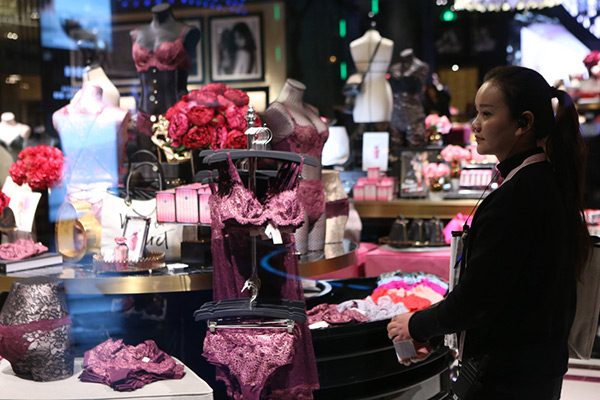 A woman explores Victoria's Secret's flagship store in Shanghai, Feb 22, 2017. [Photo/VCG]
On the night before International Women's Day, two events were staged on Shanghai's shopping street, Huaihai Road. I was amazed by the enthusiasm and number of people cramming the two stores.
Although only several hundred VIP customers were invited to the pre-sale of US lingerie brand Victoria's Secret's first flagship store in China, the hustle and bustle there attracted a big crowd of passers-by.
Just two blocks away, British retailer Marks and Spencer was offering final sale discounts to shoppers, drawing a big throng of people to selected goods, who queued eagerly to pay.
I believe both brands deserve equal respect, just like any of the other international brands that have made their way to China. No matter whether they stay or leave, peak or become marginalized, they've all played an important role in educating customers and enlightening local entrepreneurs over the years.
The location for the glamorous four-storey Victoria's Secret flagship building has seen the ups and downs of foreign brands in Shanghai.
Back in 2000, Shanghai's first Starbucks opened where the lingerie brand stands today. Opening the store was a significant step for the coffeehouse chain, which later ended the dominance of Nestlé's instant coffee in China.
For some reason, the coffeehouse exited the building and its next tenant was luxury brand LV, whose flagship store started to operate there April 2010. The brand was looking to ride the growing spending power of China's affluent.
Now comes the newly launched Victoria's Secret, which represents a stylish trend. Along with the evolution of foreign brands, Chinese consumers are getting to a new level in shopping for delicate personal wear, which points to their increasingly sophisticated tastes and attitudes to foreign brands.
I still remember the 1980s, when there was such limited choice for Chinese people, ranging from food, drinks, clothing, to everyday commodities and the like.
Take sportswear, for example. Whenever there was a PE class in the playground, everyone would invariably wear those sapphire blue clothes, featuring two parallel white bars, as well as white sneakers.
When the country was opening up, some pioneering multinational brands such as Jeanswest, KFC, Coca-Cola, and Buick soon became uber popular among Chinese.
People no longer had to eat, drink, wear, or use the same brands any more. Thanks to the foreign brands, Chinese people caught up with the latest global trends and lifestyles.
Back to M&S's departure, then, and it's supposed to be the company's strategy to exit loss-making outlets across 10 international markets, rather than spelling doom for its retail operations.
As a matter of fact, it did win some loyal customers throughout its near one decade venture in the Chinese mainland. One of my friends said lingerie from M&S is the most comfortable among all the brands she's worn-and it offers the snuggest sizes.
During one of my recent visits to an M&S store, a senior local couple stood in front of me at the cash desk, asking the cashier: "So your shop is going to close? What a pity. You've got good stuff."