Coming up with the right solutions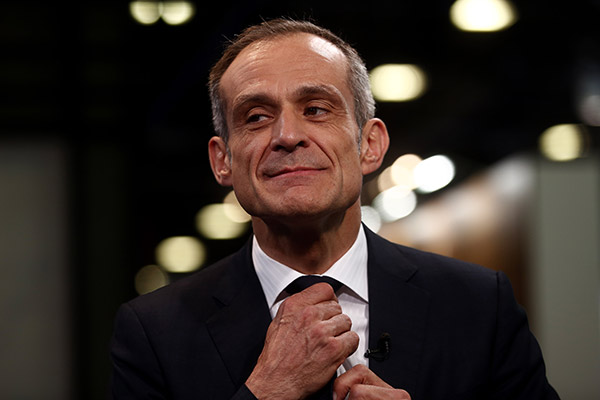 Jean-Pascal Tricoire, chief executive officer of Schneider Electric SA. [Photo/Agencies]
Schneider Electric CEO is an old China hand who sees great potential in the country as it moves to advanced technology inmanufacturing
Jean-Pascal Tricoire has expanded Schneider Electric SA's global reach by using one small, five-letter word, trust.
The chief executive officer of the French multinational corporation, which specializes in energy management and automation solutions, is a rare breed for a European business leader as he also speaks Mandarin.
In China, he is even known as Zhao Guohua, a loose translation of his French name.
But then, the key to his success is a management style that has helped Schneider Electric build up its business here and in the rest of the Asia-Pacific region.
"I am very proud of our team here," he said. "You must trust them and spend time with them."
As a global giant in energy management and automation, the company is involved in high-tech digital solutions that have helped transform China's manufacturing industry.
"We have been working with Chinese companies under the Made in China 2025 Strategy to improve energy efficiency and reduce costs," said Tricoire, who spends most of his time at the company's Hong Kong office.
Schneider Electric has a huge global presence. The Paris-listed firm operates in over 100 countries and has more than 160,000 employees worldwide, according to its website.
Last year, the conglomerate reported revenue of 24.7 billion euros ($27.69 billion) with the Asia-Pacific region accounting for 27 percent.
China helped fuel those numbers as it is the company's second-largest market.
"The Chinese government's support for innovation, high-end manufacturing, energy efficiency and digitalization coincides with our priorities," Tricoire said.
Bullish about business opportunities in the country, he outlined Schneider Electric's market strategy in an interview with China Daily.
How do you assess your business prospects in China as far as the country's economy is concerned?
We have been in China for 30 years, which means our investment is long-term. The country is Schneider Electric's second largest market. We have the most employees here and boast the largest research and development center in the world.
So, we have a strong presence in China. We don't invest for today's economy, but for the very long term. We keep adapting to new situations in the country. Last year, China put forward the 13th Five-Year Plan (2016-20) and we support all the key directions of this initiative.
What business opportunities have you seen from the Belt and Road Initiative?
China has shown great responsibility in supporting countries and regions related to the Belt and Road Initiative, such as improving infrastructure.
Because of China's amazing development in the past few years, it now has the experience to build infrastructure. And there are many economies involved in the initiative that need these kind of projects.
Therefore, the Belt and Road Initiative is a great plan, probably one of the biggest this century.
We see huge potential in working together with Chinese enterprises as we have a strong presence in economies participating in the initiative. We can support this plan.
Schneider Electric can provide complete solutions through its product, technology and services to create value for concrete, steel and water treatment sectors. When Chinese companies go abroad and look for partners, we can help them as we have already been there before. We have engineers and service teams there, which can help enterprises grow faster.
How do you assess the business opportunities from the ongoing Made in China 2025 Strategy?
We are working together with Chinese companies to implement the Made in China 2025 Strategy. We will be applying innovative technologies to manufacturing such as the internet of things, big data and analytics on artificial intelligence.
We also support green cities by helping to roll out energy efficiency everywhere.
We have done a lot in response to the initiative. We have multiple collaborations with Chinese machine manufacturers. When they export equipment, we provide them with the most sophisticated technologies to automate the machines. We also help them realize digital transformation through cutting-edge solutions.
How do you evaluate the Chinese market in your global business and do you plan to increase investment here this year?
China is central for Schneider Electric. I lived in China in the 1990s and now Asia has become our largest region in the past six years. China is an important market for us-a place for innovation as we have the largest R&D center in the country.
We will keep investing in China and a large part of that will be in innovation. One characteristic of Schneider Electric is that we do everything with our partners. We produce or manufacture with partners. When we prepare systems or data centers, manufacturing plants or machines for our customers, we do it with our partners.
Therefore, in China, we cooperate with local companies. More investment will go into innovation and we want to develop partnerships in this. For instance, we have established links with universities. We are also creating a venture capital fund this year to help startups in the country.
How has globalization benefited your business?
Globalization benefits business in general. Globalization has benefited China a great deal. In fact, China has been one of the big winners of globalization. On the whole, it means less barriers and more trade between countries. One big factor of economic growth in the past 30 years has been globalization.
Could you talk about your plan regarding the internet of things?
The internet of things is touching all the markets we serve, including industry, building, IT and infrastructure. We started early in this field with the first lineup of inter-connected products in 1997. At present, 50 percent of our turnover is from connected products to the cloud or software.
By virtue of the internet of things, customers can receive a great deal of data from buildings or factories. That all helps to understand better what is happening. Furthermore, digitalization gives employees more safety, productivity and capability. They can be more efficient and safer while they do their jobs.
We have done a lot regarding the internet of things, such as smart buildings, smart data centers, smart manufacturing and smart cities, which connect by digitalizing objects. I would say this is not a technology, but a new way of working, which is a little bit like WeChat.
It will change the way we live together-from digitization of manufacturing to buildings cities.
What is your biggest achievement as CEO?
First of all, I am very proud of our team in China. When we started in the country in the 1990s, we established a team to create the foundations of Schneider Electric China. So, the biggest achievement here is to have a team of very talented people to develop the company.
Secondly, we work on products and systems that are very useful to society. We are a community of people and make sure that "Life is On", which means everything around us works. We help enhance efficiency and save resources to fight climate change and pollution. Everything we do is to make sure "Life is On" and life is better for everyone.
What is your management philosophy?
It has to be trust. You must be with your employees. You must spend time with them to stimulate their creativity.
What are your hobbies?
I take exercise and like to visit different countries. I have lived in the United States and Africa, and I would like to go to countries that I haven't been to before to soak about the culture.
CV
Age: 54
Career:
2013 onwards: Chairman and Chief Executive Officer of Schneider Electric
2006: President and CEO of Schneider Electric
2004: COO of Schneider Electric
2002 : Vice-Executive President of the International Operating Division of Schneider Electric
1986: Joined Schneider Electric
Education:
1986: MBA from the Ecole Supérieure de Commerce in Lyon, France
1980-85: Majoring in Electronic Engineering from ESEO in Angers, France