De Beers' diamond-studded success story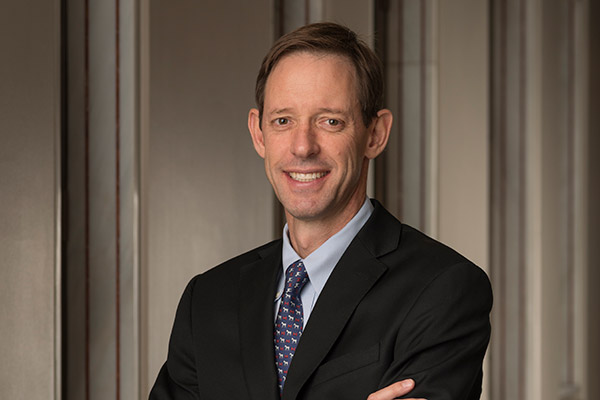 Bruce Cleaver, chief executive officer at De Beers. [Photo provided to China Daily]
CEO Cleaver outlines the luxury brand's plans in China, and talks about the vibrant buzz of Beijing, Shanghai and Hong Kong
Bruce Cleaver knows that diamonds are forever after running De Beers for a year.
The 51-year-old chief executive officer was in charge when the swanky London-based company opened one of the world's largest diamond mines near the Arctic Circle in Canada.
He also oversaw the development of the SS Nujoma, a state-of-the-art diamond exploration ship.
Finally, he was involved in the decision to buy back control of De Beers Diamond Jewellers, a luxury retail joint venture the company rolled out with French blue chip brand LVMH.
But then, Cleaver has a simple business philosophy for such a glitzy company.
"I want to do a meaningful job, work with people I like and make a difference to people's lives," he said.
De Beers has certainly done that. Founded in 1888, the world's biggest diamond company operates in 28 countries and employs more than 20,000 staff globally.
Last year, revenue was $6.1 billion, a 30 percent increase on the $4.7 billion recorded in 2015.
Part of the giant Anglo American group, the company reported that the figures were fueled by higher rough diamond sales, which rose by 37 percent to $5.6 billion.
The market here also played a leading role. "China is our second-biggest diamond retail market and the one with the most upside," said Cleaver.
In a far-reaching interview for China Daily, he talks about the company's business strategy, his admiration for the legendary US author F. Scott Fitzgerald and his love of English Premier League soccer club Chelsea.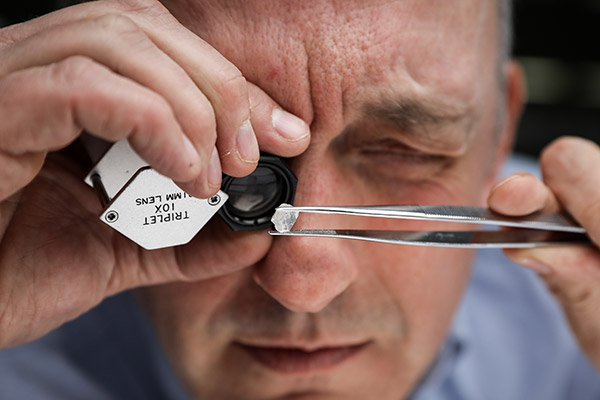 An employee inspects an unpolished diamond at the De Beers SA headquarters on Charterhouse Street in London. [Photo/Agencies]
How do you assess the role of De Beers' Chinese business in your global strategy?
China is our second-biggest diamond retail market. Diamond consumption in the country has accelerated so fast over the past few years.
It now constitutes between 14 and 16 percent of our global total. Chinese consumers are big purchasers of diamonds, not just in China but globally through their travels.
Our presence in China is directly managed by our two retail brands. We have Forevermark, with 870 stores across 170 cities in China, and De Beers Diamond Jewellers, with six in the mainland.
We also sell diamonds through Chinese retailers with Chow Tai Fook, Chow Sang Sang and Lukfook being the biggest. We directly employ about 100 people to manage our presence and relationship with retailers.
What business opportunities do you see as China promotes the Belt and Road Initiative?
Diamonds are an aspirational purchase. As countries and regions involved in the Belt and Road Initiative expand through infrastructure investment, their ability and willingness to purchase diamonds will grow.
What opportunities do you see from globalization?
Globalization has increased the number of Chinese consumers traveling abroad. More than 50 percent of our retail customers globally are Chinese and they are strong shoppers in our stores in Paris, London and New York.
So, our global stores are designed with Chinese shoppers in mind. For example, the opening of our New York flagship outlet on Madison Avenue last year was attended by celebrated Chinese actress Fan Bingbing, who is our brand ambassador.
What is your biggest achievement as CEO?
I've done a lot in a year globally, but in China we have stabilized and improved our relationship with key partners. That is the most important thing. It is a collective success.
What is the secret of your business success in China?
Chinese consumers value the legacy, the brand, the history and the mystique of De Beers. We spend $120 million each year on global marketing, of which a large portion is spent here.
We picked Fan Bingbing to be our brand ambassador because she is modern and relevant for Chinese consumers. She has enormous reach on social media, and tweets on Instagram and Snapchat for us. This modern approach and relevance, combined with the brand trust we have built up with Chinese consumers, is very important.
How do you lead De Beers' localized strategy in China?
Consumption patterns shift very fast, so when I visit China I go to our stores to observe what is going on. I reflect on the look and feel of our stores, and I think about how friendly they are.
I observe how the shop assistants treat customers. I then go to neighboring luxury stores in the same malls to observe and think about how we can improve our approach.
What do you consider unique about Chinese consumers?
One interesting observation I made while watching Chinese shoppers is how digital they are. They are always connected to their devices. While looking at diamonds in stores, they talk to friends on the phone, texting them, or doing product comparisons on websites.
We, as retailers, have to become smarter and think about how to engage with them in a store. To better target China's digital consumers, we have very good social media platforms. We have also invested in digital marketing in China.
This allows customers to make more informed decisions, even though they make the actual purchase in store.
How do you get along with local partners?
I travel to China frequently to meet with our retailers, and my colleagues work closely with them. We make sure our products inside their retail stores are presented properly, and they are shown and explained to customers by sales staff.
One way to motivate our Chinese retailer partners is through good commissions for revenue they generate. In addition, we make sure they understand our brand value and are excited by it.
How do you motivate your international team?
The best way to motivate employees is to let them participate in the growth and success of the company. In China, our employees can really see this fast growth on the ground.
It has meant we have hired an increasing number of people in China, mostly employees who are used to working for other international luxury brands. It's not always easy as there is a lot of competition to get the best staff.
What is your business philosophy?
I want to do a meaningful job, work with people I like and make a difference to people's lives. We source some of our best diamonds from Botswana, which was once the poorest nation in the world.
Botswana responsibly reinvested its diamond revenue and now it is a middle-income country. It has better infrastructure and free education. It is a great thing to be a part of this change, to see the government take revenue it earned from its natural resources and invest it responsibly.
I'm very proud of that.
What is your favorite book?
The Great Gatsby by F. Scott Fitzgerald, which is set in the United States in 1920s. I can't believe the behavior of the people, the opulence of their time. Fitzgerald has the ability to describe a whole scene in such succinct language.
What are your hobbies?
I travel a lot for business, so when I am at home in Kent county in Southeastern England, I spend time with my family. I also love watching soccer as I support Chelsea in the English Premier League. I play tennis and golf.
When did you first visit China and what do you enjoy about the country?
I visited China for the first time seven years ago, and now I return to Hong Kong, Beijing and Shanghai frequently. The vibe is fantastic, the energy, the people, the way Beijing has risen over the last 10 years. It is flourishing. Beijing is a fascinating city with lots of historical sites and Shanghai has incredible infrastructure.
What are your dreams for the future?
I want to continue to head the business to make a positive difference to the world. I want to see De Beers continue to lead the diamond industry, and embrace the changes and innovation in the business and the world.
CV
Age: 51
Career:
2016 onwards: Chief executive officer at De Beers
2005: Joined De Beers
1996-2000: Corporate finance executive at FBC Fidelity
1994: Partner in the commercial practice of Webber Wentzel in South Africa
Education:
1991: Master of Law degree, Cambridge University, UK
1985-88: Bachelor of Science in applied maths and Bachelor of Laws, University of Cape Town
Family:
Married with two children