Time to put people's WeChat use into perspective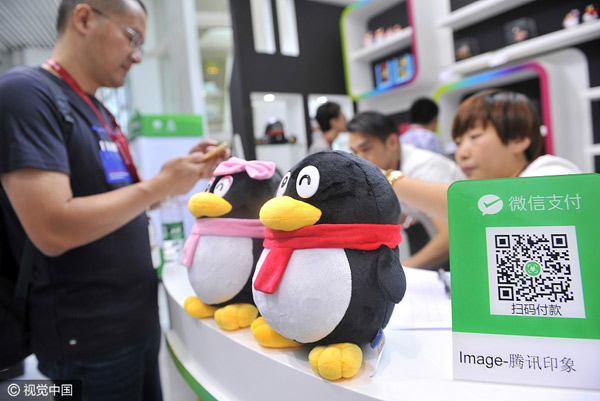 A man pays via WeChat app on his mobile phone in Fuzhou, capital of Fujian province. [Photo/VCG]
As a tech reporter, I am immersed in WeChat every day-it's definitely growing into a super all-in-one app that you cannot afford to stay away from: Hailing taxis, booking movie tickets, reading news posts. It's the whole package.
But over-reliance on the super-app has started to leave me in the grip of an addiction to my phone. I cannot wait to check new notifications or friend requests every single hour. And I turn to "Moments", the social feeds of contacts' updates, when I am bored or depressed.
Apparently, I am not alone. Among the 938 million active monthly users of WeChat (and that's already more than two-thirds of the world's most populous nation), at least one-third spend a solid four hours or more on the app, according to the latest study by Penguin Intelligence, the research arm of WeChat's developer Tencent Holdings Ltd.
The huge user base and the level of stickiness have helped Tencent monetize its vast social networking empire, by reaping early gains in digital advertising. According to its latest quarterly report, social and other advertising revenues grew 67 percent year-on-year to 4.38 billion yuan.
But my anxiety didn't seem to be alleviated by my curiosity about other people. I cannot help but wonder if my life measures up and turn to everybody else's version of lifestyle perfection. It simply made me feel worse.
Many of my contacts aren't technically "friends" but "casual acquaintances". This is in line with the Penguin Intelligence survey that most newly added WeChat contacts in the past year were mostly work-related and seldom met.
Such a trend is also turning the app into a virtual workplace. More than 80 percent said they often handle office work on WeChat, including transferring files, coordinating tasks and taking video calls.
Therefore, I am essentially spending a lot of time browsing irrelevant information, whether it's promotional campaigns, or the hiking trip of a person who I can barely remember.
Paradoxically, another equally important factor, if not more, is the fear of missing out. Added to the Oxford English Dictionary in 2013, the term FOMO was coined to refer to "the uneasy and sometimes all-consuming feeling that you are missing out on things that your peers are doing and in possession of more or something better than you".
The fast-paced life backed by technological breakthroughs is an anxiety amplifier. For instance, WeChat's public accounts, which allow media services, industry bloggers and corporate branding campaigners, to feed content to subscribers, are quickly gaining traction, with 60 percent of respondents saying they are willing to tip good content producers.
So I have to force myself into reading each and every popular article that is widely circulated among my virtual contacts, because otherwise I cannot even start a dialogue and would be treated as an outsider.
The app also tracks down how long your contacts exercise and how much time he or she has spent reading. But only when you meet your friend face-to-face would you get a chance to know that he tied his phone to the neck of his dog to achieve the 10,000 steps per-day goal, or simply turned the e-book on but was instead playing mobile games.
It suddenly hit me that social networks don't provide a very well-rounded picture of people's lives. It's more like the edited highlights. This constant fear of missing out means you are not participating as a real person in your own world.
What's more, by presenting my carefully edited version of life, I just made anyone who sees it feel bad, like what others did to me.
So I turned off the notification of the Moments function. Real happiness comes down to one word: attention, and it's the attention to real life, rather than the illusion in social networking sites.
After all, social media isn't the devil. But we should prevent from being wired to compare to others and leads on a medium where everyone is pretending to look their best.