Does the Michelin guide really suit Chinese tastes?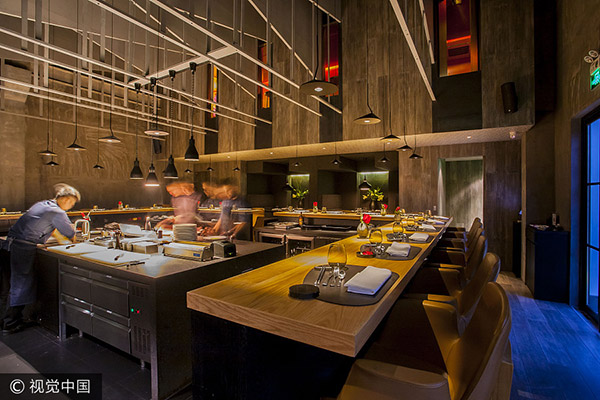 A Michelin-starred restaurants in Shanghai. [Photo/VCG]
My earliest experience of dining at a Michelin-starred restaurant happened several years ago, when I had an amazing lunch at the Cantonese dim sum restaurant T'ang Court, now one of the only six three-star restaurants in Hong Kong. It was there and then that I realized Chinese food could be served in such a delightful combination of flavors, freshness and colors.
I'd have almost forgot that legendary gastronomic experience had it not been for the suddenly rising trend of dining at Michelin-starred restaurants in Shanghai, where French tire manufacturer Michelin launched its first restaurant guide in the Chinese mainland last year.
In a nation that boasts thousands of years of culinary culture, people pay a lot of respect to the 117-year-old restaurant guide. Some gourmets specifically arrange trips from other cites to Shanghai or book seats weeks ahead to taste the dishes in Michelin-starred restaurants. Some local restaurants advertise their links with other Michelin-starred restaurants, and the media gives lavish exposure to restaurants newly listed by Michelin.
But the feedback is not always encouraging, as I have started to hear some complaints.
"I will never forget how I was shocked when I ate a sweet-flavored soft-shelled turtle in a local restaurant which won one star from the restaurant guide. That culinary adventure means that I will not enter that restaurant again," one of my colleagues said.
Another friend of mine complained that some starred restaurants pay too much attention to the presentation instead of the taste of the meal. "I was lost in the thick liquid nitrogen in which the fruit and meat were presented in a quirky way," said the friend.
A more dramatic scene happened when Taian Table, a one-star restaurant run by a German chef, was forced to shut down as it was operating without business or catering licenses. The restaurant did not reopen until it moved to a new location four months later.
But the power of the Michelin stars is still huge for many prestigious local Shanghai restaurants. "The food we are serving receives fabulous reviews from our customers, but we still need to learn more from our peers in plate presentation in order to become a Michelin-starred restaurant," said a senior executive from a famous local restaurant, which is well-known for its crab dishes.
Based on ratings from anonymous inspectors and independent food reviewers, the Michelin guide offers undoubted fairness and credibility, but I do wonder if a Western guide should become the sole standard for deciding the quality of restaurants in China.
In the 2017 edition of the Michelin guide for Shanghai restaurants, nine out of the 26 Michelin star restaurants offered Cantonese dishes, six provided Western cuisine, five presented local Shanghai dishes, five offered other Chinese cuisines including vegetarian restaurant, and one sold barbecue.
In the eyes of Western food reviewers, the selection is wide enough, but China is a nation that has developed eight famous cuisines from Shandong, Guangdong, Sichuan, Hunan, Jiangsu, Zhejiang, Fujian and Anhui over hundreds of years, in addition to the countless other must-try snacks and dishes from every corner of the country.
Behind the advent of the Chinese version of the Michelin guide is the growing food economy. In 2016, China's top 100 restaurants generated 218 billion yuan ($31.96 billion) in revenue, representing annual growth of 7.4 percent and outpacing China's GDP growth, according to the China Cuisine Association. Another report jointly published by Meituan and Dianping.com showed that dining revenue exceeded 3.5 trillion yuan in 2015, and this figure is expected to reach 5 trillion yuan by 2020.
Venture capital also has great interest in the dining sector, with a milk tea brand from Guangdong province receiving 100 million yuan in financing.
As the nation boasts the four great inventions of gunpowder, the compass, papermaking and printing, I do believe that China is capable of formulating its own standards to help guide local gourmets to find their dream dishes.