Entrepreneur education at tipping point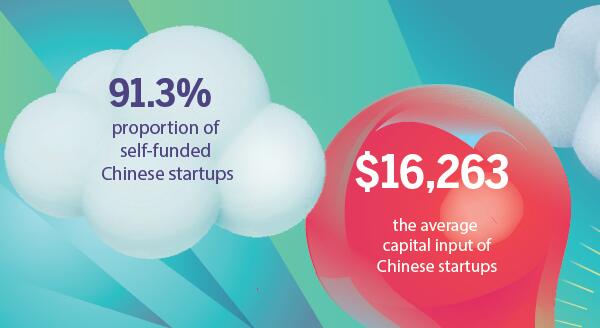 Universities realize EE could be viable business, target students and investors
Xu Zhong is with Tsinghua University but his work is radically different from that of his colleagues (who are mainly into lectures and research). As the general manager and shareholder of the China Institute of Entrepreneurship, which is part of Tsinghua University, Xu travels, gives speeches, makes sales pitches and sews up financing deals.
Or, when not doing any of that, he trains aspiring entrepreneurs on how to do all of that.
"Educating tomorrow's entrepreneurs is vital for the nation's future as China is striving to maintain high levels of economic growth," said Xu.
Xu was part of China's first batch of MBA scholars in 1996. He participated and won a business startup competition in 1998. That proved to be a key milestone as well as a turning point in his career and life. It pitchforked him from a potential career of white-collar jobs to a pioneer of entrepreneurship education in China.
Experts use the phrase "double-E" (abbreviation EE) to refer to entrepreneurship education. Xu said EE is all the more important now because the central government has been emphasizing mass entrepreneurship and innovation since 2014.
So, training of entrepreneurs could be a viable niche business in China, he said.
Agreed Wang Wei, founder of a firm that provides medical services for autistic children. "It's hard to survive if we don't have support from professional quarters."
College students, he said, usually start with a concept about a product or service but have no idea about aspects of a business or organization like team-building, marketing and financing.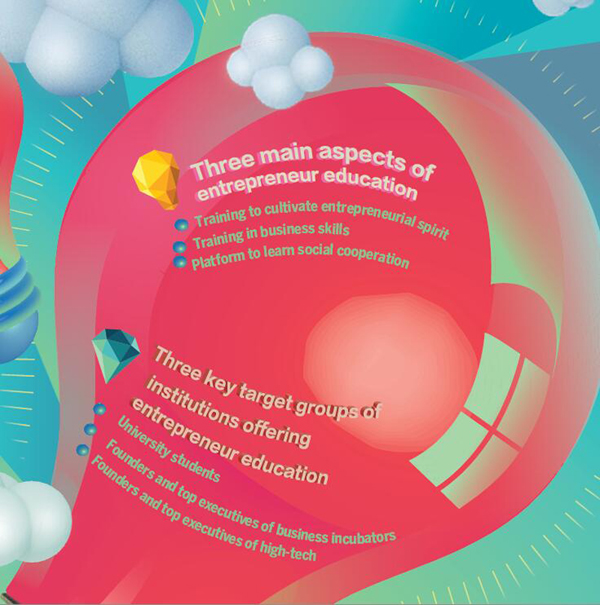 But the scene is changing. Research shows a rise in recent years in the number of college graduates who founded or joined startups. Around 204,000 undergraduates chose to start their own business in 2015. But their success rate is only 10 percent, which is far lower than that in other countries.
"Good entrepreneurship education can lead to entrepreneurial success and help promote an entrepreneurial culture," said Mao Donghui, executive director of X-Lab of Tsinghua, a startup incubator education platform. "This explains why entrepreneurship academics become popular in the West.
"Colleges all around the country are our main customers who are required since 2016 by the Ministry of Education to provide EE courses," said Xu.
"Our goal is to provide students with an entrepreneurial spirit through education and training in business skills and social cooperation. Our focus is on helping students prepare for the future."
According to the Tencent Research Insititute's 2016 China Innovation and EE Report, entrepreneurial training centers are mainly targeting universities, business incubators and high-growth technology companies.
"The ultimate goal of education is to enlighten. We are now trying to make amends for the lack of entrepreneurial spirit in the past," said Zhang Lizhi, vice-president of the Institute of Innovation and EE at Dongbei University.
He is busy recruiting teachers and organizing related external training services, unlike X-Lab's Mao who is happy to have seen more and more students joining the platform in the past few years.
As the nation's leading EE platform, X-Lab is open to all undergraduates, fresh graduates, teachers and alumni of Tsinghua. This strategy has helped set up over 1,000 enterprises and raised more than 150 million yuan in investments in startups so far.
German student Jan Milark, 30, started an online art business last year and quickly moved into X-Lab. "There are so many young guys here trying to set up their business instead of working for big companies. This is different from the EU (European Union) and I want to be part of this."
The CIE of Tsinghua is targeting, besides students, 3,000 business incubators, technology parks and 300,000 high-growth technology companies to offer its EE courses.
But challenges abound. Even though the International Labor Organization has recognized the "Know About Business" or KAB program as a legitimate educational course in the 1990s, universities, policymakers and people are not fully aware of it.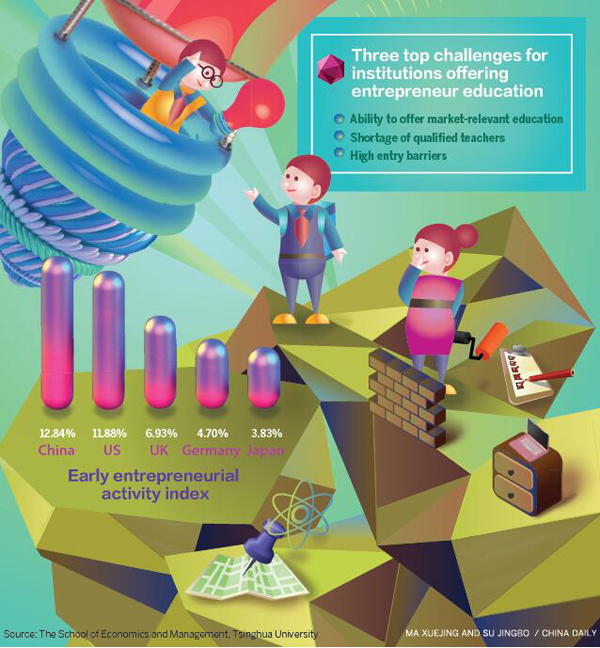 Awareness of EE, if any, is limited to first-tier cities and developed coastal areas. Parents in second- and third-tier cities are not willing to enroll their children in, much less pay for, EE courses.
Another challenge is that EE remains a relatively new concept for universities. Very few teachers have relevant academic qualifications to hold entrepreneurship-focused roles. Fewer still have experience in helming EE courses.
"Entrepreneurship involves practice-based learning. It's very hard for teachers to win the trust of students and their parents if they don't have relevant academic or startup experience," Xu of the CIE said.
This problem is compounded by the fact that although the first MBA program was launched in Tsinghua in 1991 (which in itself is relatively late in a global context), the option to pick innovation and EE as major subjects was introduced only in 2013.
A source close to Tsinghua University said some business schools ask their EE faculty to edit textbooks or contribute some publication-related work. Such practices may affect the quality of EE eventually as educators would have less time to devote to their priority areas, the source said.
Xu Fei, head of Southwest Jiaotong University, said policymakers should closely monitor how EE is supervised in the country as the segment is beginning to receive increasing significance.
"It's vital for universities to appreciate the importance of a localized approach to entrepreneurship education as China is so big and diversified," said Mao of X-Lab.
Sydney Chen contributed to the story.