Man of steel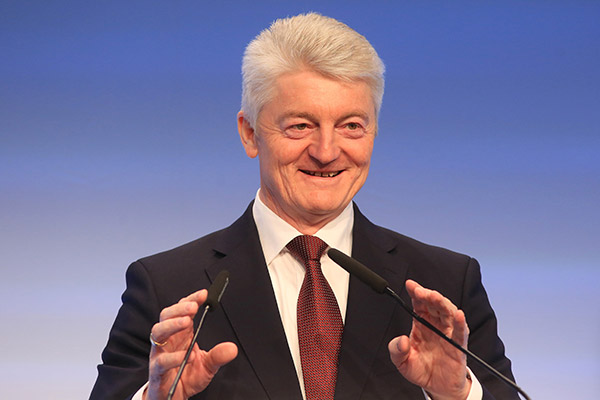 Heinrich Hiesinger, chief executive officer of ThyssenKrupp AG. [Photo/Agencies]
The head of Thyssenkrupp has plotted a new course for the German industrial giant in China, with an emphasis on high-tech components and clean energy projects
Heinrich Hiesinger has transformed German industrial titan Thyssenkrupp AG, shifting it from its core base as one of the great global steel giants.
The 57-year-old chief executive officer has moved the company into high-tech components, elevators and industrial solutions, which cover clean energy projects.
By doing this, he has managed to expand Thyssenkrupp's business in China.
"This new focus has provided us with the opportunity to grow in China," Hiesinger said.
"We started to focus on the automotive industry, elevators and other sectors, as well as participating in the country's industrialization and urbanization programs," he added.
Thyssenkrupp, which is based in Duisburg and Essen, currently has 670 subsidiaries worldwide.
In China, it has more than 30 plants and centers.
Overall, its workforce totals 156,000 and is spread across 80 countries and regions. Last year, its sales revenue was 39 billion euros ($42.57 billion).
In an in-depth interview with China Daily, Hiesinger talked about Thyssenkrupp's business strategy in China, his green lifestyle and his love of hiking.
How do you assess the prospects of your business in China and the overall state of the economy here?
I think the target of 6.5 percent GDP growth from 2016 to 2020 is still among the highest in the world. You need to remember that in Europe the target is 2 percent while in the United States it is 3 percent. So, China remains one of the growth engines of the global economy.
Clearly the outlook is different sector by sector. We have quite promising areas, including automotive, clean energy, and environmentally friendly solutions.
There are other industries such as cement, mining, trucking and construction, where we might see setbacks. But overall if you look at the automotive and elevator sectors, these are very promising and much bigger than most of the other industries.
What are the group's plans in China during the next five years?
Naturally, the growth sector for Thyssenkrupp is the automotive sector. Last year, the country was by far the largest automotive market with 28 million cars manufactured here.
Right now, we are building one of the largest plants for steering technology in Changzhou, in Jiangsu province and we have just started construction for a new spring and stabilizers factory in Pinghu, in Zhejiang province.
We are also optimistic about the elevator industry, because one has to remember that China represents half of the global market in units.
In order to increase production in that sector, we are building a new plant in Zhongshan, in Guangdong province, including a test tower, which is 245 meters high. This will allow us to bring in cutting-edge technology such as high-speed elevators.
The central government has opened up more sectors to foreign direct investment in China, how will this play out for Thyssenkrupp?
We have never limited our investment in China. The automotive, elevator and plant businesses have been open to foreign direct investment, which is one of the reasons why we have more than 30 operations here.
Looking at the big picture, we have invested more than 2 billion euros in China. We have always strongly supported the country, and now it is good to see that more sectors are deregulating.
As we have seen in other markets, opening up sectors will be beneficial for overall economic development. It is the right way to go.
Tell us how you work with Chinese companies involved in international projects through the Belt and Road Initiative?
Well, for example in other markets, we are building one of the largest cement plants in Saudi Arabia. We are the main contractor when it comes to engineering, procurement and construction, or EPC. But we are working alongside a Chinese company during the construction phase.
So, here we are in the lead and they are joining us. In the Belt and Road Initiative, there will be times when Chinese companies know the country much better than we do.
In that scenario, they will lead and we will support them.
What are the main attributes you need to be a CEO of a company engaged in doing business in China?
First of all you need to be very fast and you need to localize your business. Customers in China are eager for the latest technology and this is an opportunity.
In other markets, clients can be reluctant to engage with new technology. But Chinese customers are very open and eager to be the first to use new technology. This is beneficial for us. In comparison, Europe is much more conservative.
What are your views on globalization when it comes to trade?
I believe it has been a big success. I really appreciate that China continues to deregulate industrial segments. But obviously in other regions of the world, for example in the US, we see that global trade is partly in danger.
Of course, there have been no concrete actions, just statements so far. We can only hope that rational thinking will prevail and that people understand that major economies can only benefit if we have strong global trade links.
How do you motivate your team in China?
We have around 18,000 people working for Thyssenkrupp here and the majority are Chinese. The number of expats is extremely low. They also recognize that as CEO of the company I have made the Chinese market a priority.
I come here as often as I can because the speed of doing business here is so much faster than in other regions across the world.
How do you handle business setbacks?
That is a good question. Every person will suffer setbacks at some time or the other, and so will companies. To cope with problems, you have to be positive-you have to meet the challenges head on.
It is also important to have a vision. This will help you overcome problems and solve them as quickly as possible. You usually find that after coming through a setback, you are mentally stronger as you have solved those problems. You also see that in staff members that have handled setbacks at work.
How do you spend your time when you are not working?
First of all, I'm convinced that even as a CEO you need to relax and take time off. If you get totally exhausted, you will not be able to fulfill your duties in the office.
You need to get away and reflect on how you plan to shape the future. I always try to free up time at weekends to relax and recharge my batteries.
What I really love is hiking. Luckily, my wife enjoys that as well and we have a dog, so we are highly motivated to get out in the country. In fact, you can often find us exploring the mountains near where we live.
Do you have a green lifestyle?
Well, in order to heat our home we use geothermal energy. Naturally, we do care a lot about the environment and we also have a large garden. As a boy, I grew up on a farm, so I have always cared about the environment, plants and animals.
Do you think your background as an electrical engineer is relevant to your present position as CEO?
Being an engineer is never a disadvantage. Today, it is all about innovation and it makes it much easier for me to follow what is going on than for somebody who lacks skills and knowledge in engineering. But then, I really liked being an engineer, as I found the work fascinating.
How do you resolve problems between different business sectors?
I try to get maximum transparency when it comes to data. If you achieve transparency, the problems can usually be solved and you know the right direction to take.
Of course, there are times when that does not work when it simply comes down to leadership. Then you have to make a decision to resolve the issue. But it must be done in a fair and correct way-that is essential.
CV
Age: 57
Nationality: German
Career:
2011 onwards: Chairman of the Executive Board of Thyssenkrupp AG
2010-11: Vice-Chairman of the Executive Board of Thyssenkrupp AG
2008-10: CEO of the Industry Sector of Siemens and head of the central department of Corporate Information Technology
2007: Member of the Managing Board of Siemens AG
2003-07: President and CEO of Siemens Building Technologies AG
2000-03: President of the Power Transmission and Distribution Group of Siemens AG
1992-2000: Various positions in the Power Transmission and Distribution Group of Siemens AG
Education:
1991: Doctorate degree in electrical engineering at the Technical University of Munich, Germany
1986: Master's degree in electrical engineering