The world's middle class had a population of 664 million in 2015, with their net worth amounting to $80.7 trillion and accounting for 32 percent of global wealth, according to the sixth edition of the Credit Suisse Global Wealth Report released by Credit Suisse Research Institute on October 13, 2015.
The report chooses the United States as the benchmark country for defining the middle class in other countries in terms of a wealth band rather than an income range.
To be the middle class, adults in other countries should have similar local purchasing power as it of those in the United States with wealth between $50,000 and $500,000.
A ranking of wealth holdings of middle class by country worldwide is listed by the report, and the top 10 of them are as follows.
10. Spain: $2.2 trillion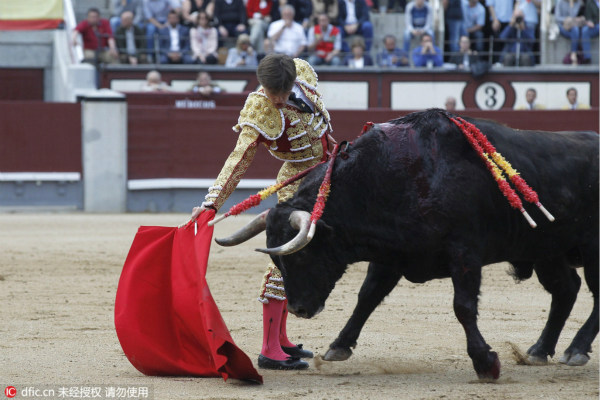 A matador fights his bull during the Press Bullfight of the San Isidro Fair at Las Ventas bullring in Madrid, Spain, May 17, 2016.[Photo/IC]
Spain has 21 million middle-class adults that accounts for 55.8 percent of all. The wealth of $2.2 trillion held by them represents 52.4 percent of country wealth and 0.9 percent of world wealth.