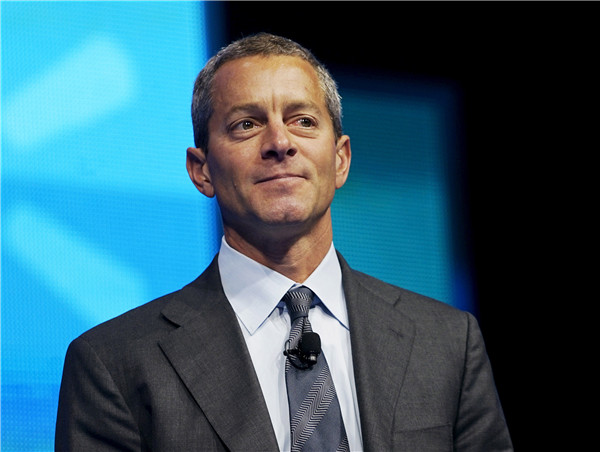 Greg Penner, chairman of WAL-MART board of directors.[Photo/Agencies]
WAL-MART's new chief sees dazzling future in China; expects local retail to reach 25% of global market
Like many retail employees, Greg Penner started his first job at WAL-MART Stores Inc as a trainee, in its Siloam Springs, Arkansas store.
Twenty years on, as the third person to lead the world's largest family-controlled business and leading retailer by revenue, Penner still recalls the store manager, Gary Harris, had a big impact on him.
"It was a very fast-growing store at the time-which is the case with many of our stores in China today," said Penner, who became chairman of WAL-MART last year, and who follows in that role father-in-law Rob Walton and company founder Sam Walton.
"What I admired most about Gary was that he ran the store like his own business-the systems, logistics, employees and community relations. He wasn't a layer of management, but an owner and a leader."
Harris also always kept his focus on the customer and the relationship with the customer, Penner said.
He remembered one time a customer was returning a lawn mower to the store's garden center. "It was clear that the item had been used throughout the season," recalled Penner.
But Harris took it back because he knew the customer and that if he did right by him, WAL-MART would continue to be his store of choice. "That's always what we want to achieve in China-to be the store of choice for our customers here," said Penner.
Penner is optimistic about the retail industry's prospects and the economic situation in China. Opening more stores is part of efforts to integrate its hypermarkets, membership stores and online platform to offer customers more convenience and quality products in a highly competitive retail market.
For 20 years in China, WAL-MART has built three brands-WAL-MART hypermarket, the Sam's Club membership store and Yihaodian, the retailer's Chinese online offering. It operates 430 stores including 12 Sam's Clubs in 170 cities.
Recently, Penner spoke to China Daily about his strategies, vision, digital plan and management style. The following are the edited excerpts from the interview.
You've visited stores in China. What impressed you the most?
People in the stores. They are friendly, engaging, understanding our business and WAL-MART culture. Talking with them is impressive.
How different are Chinese and American shoppers based on your observations?
There are always differences across markets. But there are more similarities than differences. We found that customers are always interested in good prices, broad assortments, great location, and the ease to shop, with more focus on convenience. In China, customers also focus on quality, which is incredibly important.
What do you think of the Chinese retail industry?
The Chinese retail industry has amazing growth opportunity. In the next five years, it will surpass the US market in terms of retail potential, accounting for 25 percent of the global retail market.
What is your vision for WAL-MART in 20 years in China?
We see our three brands growing. We announced plans to open 60 new stores in the country by 2017. It is important to grow physically. Also we want to focus on online business and digital relationships with our customers.
Chinese market is set to leapfrog other markets; it is the testing ground for other parts of the world.
Any new measures for digital business here?
We've invested more in Yihoadian to bring our ownership to 100 percent. Around the world we've introduced an e-commerce fulfillment center and set up technology offices in Silicon Valley and India. WAL-MART has always been a technology-driven company. We've launched a WAL-MART application, offering grocery home shopping, on more than 20,000 products in six cities in China.
You are founder and general partner of Madrone Capital Partners and a board member of Baidu Inc, how have the experience shaped your strategies in WAL-MART?
Madrone has invested in both private and public companies. We invested in Baidu in 2000 to help get the company started.
It is really important for us to see how different business work and be able to draw experience to help our management team.
My experience with Baidu has allowed me to see the speed of how markets develop. It is really important getting localization and Chinese consumers right.
Chinese have strong owner and manager philosophies of owning their own business. Managers here want to be part of the company and grow with the company. The challenge is how to get it right to give you an advantage.
How do you feel about the generational change to lead the company?
I'm only a year into the role. Still excited about it. I have deep and strong sense of responsibility. Our role is to ask management tough questions, but also give them support. Make changes and invest for the future. Recently we are in a period of investment.
We are making significant investments in people and stores in the United States, as well as investment around the world on the e-commerce platform. The vision for the future is for a seamless way to use our digital and physical assets to serve our customers, anytime and anywhere.
Could WAL-MART have more convenience stores?
Not necessarily. Most of time when we say convenience stores, it means more convenience for people to shop. We don't define what convenience is, our customers define. We have to figure out how to use our different assets to serve them.
What are your hobbies to balance stress at work?
I always try to spend time with my children and my wife. I compete in triathlons. And I do mountain climbing. I climbed in Nepal and Argentina. It is important to have a balance and find time for family and personal interests.
CV
Age: 46
Career:
2015 onwards: Chairman of the board of directors of WAL-MART Stores Inc.
2008 onwards: Joined the board and a member on the strategic planning & finance committee and as chairman of the technology & e-commerce committee.
Education:
1992: Bachelor of science in international economics from Georgetown University
1997: MBA from the Stanford Graduate School of Business
Family: Married with four children