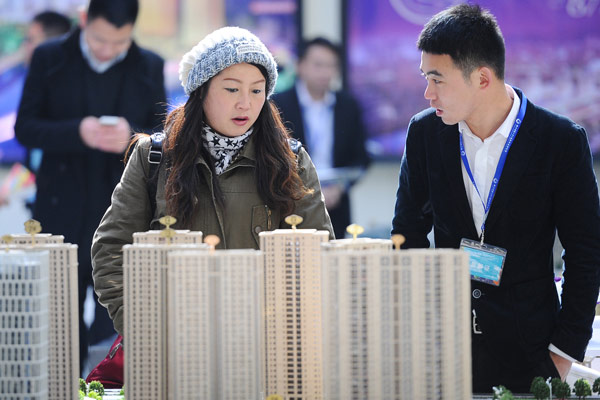 A woman talks with a salesman at a property market fair in Hangzhou, Zhejiang province.[Photo/China Daily]
Although China's GDP grew by 6.7 percent in the third quarter, and many macroeconomic indicators in the quarter showed better-than-expected signs despite a global economic downturn, the country's economy still faces great challenges, especially in the real estate sector, economists said.
The domestic real estate sector, which is regarded as a significant driver of economic growth this year, faces uncertainty due to tightened real estate policies that were issued recently.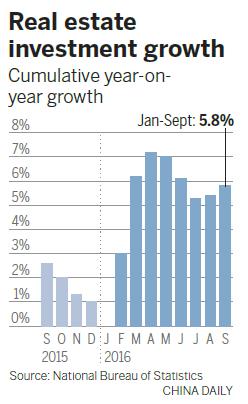 In the first three quarters, China's real estate investment grew by 5.8 percent, although such investment last year grew by just 1 percent from January to December, according to National Bureau of Statistics data.
Housing sales reached 8.02 trillion yuan ($1.2 trillion) from January to September, a year-on-year increase of 41.3 percent, the data show.
Fueled by easy credit policies, China's new housing loans issued to individuals amounted to 3.63 trillion yuan in the first three quarters, accounting for 35.7 percent of all new loans, according to the People's Bank of China.
"Real estate has played a supporting role in China's economic growth since the beginning of this year," said Sheng Laiyun, a spokesman for the NBS, at a news conference on Wednesday on China's economic performance in the third quarter.
"In the third quarter, real estate contributed about 8 percent of GDP," he added.
But real estate control measures that were implemented by the end of September in 22 first- and second-tier cities are expected to curb speculative housing purchases and cool these heated property markets in the fourth quarter.
According to Sheng, some red-hot cities' housing sales declined remarkably in the first half of October, and "the high fever of real estate is gradually going down".
"Tightened property policies will affect real estate investment and may slow GDP growth in the fourth quarter," said Yin Zhongli, a real estate expert at the Institute of Finance and Banking at the Chinese Academy of Social Sciences. "Meanwhile, the anticipation of a cooling down in the property market will influence real estate-related industries, such as steel and iron."