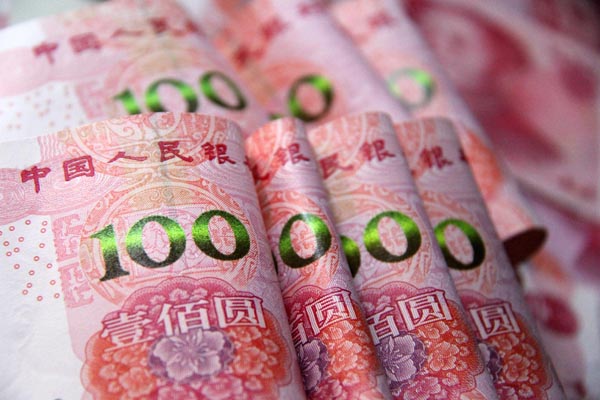 A photo of Chinese 100 yuan banknotes [Photo/VCG]
A strong dollar and external uncertainties are creating pressure for short-term depreciation of the yuan, but economic fundamentals will help stabilize the exchange rate in the long run, the spokesman for the National Bureau of Statistics said on Wednesday.
The onshore exchange rate rose for the first time in nine days after data on Wednesday showed that the nation's economic growth expanded by 6.7 percent year-on-year in the first three quarters of the year, easing some concerns of continued deprecation.
"Recent depreciation of the yuan was mainly driven by external factors, where rising expectations of interest rate hikes in the United States and uncertainties brought by the slowly recovering global economy played major roles," said Sheng Laiyun, spokesman for the NBS, "but the currency does not face medium- to long-term depreciation pressure."
"A steadily recovering economy would be the strongest support for a relatively stable exchange rate," he said, adding that a trade surplus would also fend off the risks of a further substantial depreciation.
Xu Gao, chief economist of China Everbright Securities Co, said the market has become accustomed to two-way volatility.
"Although the yuan has room for depreciation in the short run, it will not enter a depreciating path because recovery of the economy in the United States remains weak," Xu said.
Xu made the remarks after the yuan fell sharply versus the dollar in the past two weeks, following the yuan's inclusion in the Special Drawing Rights basket of the International Monetary Fund at the beginning of the month.
Market watchers expected a sharp depreciation soon after the SDR inclusion, considering that policymakers need to further liberalize the exchange rate controls.
Sheng said the SDR inclusion can help stabilize the exchange rate, since it will prop up the demand for the yuan in the international market.
"Central banks will raise the demand for the yuan after it becomes a reserve currency," said Sheng.
Bu Yongxiang, deputy director of the research institute of the People's Bank of China, the central bank, said the short-term impact brought by the SDR inclusion on exchange rate fluctuation will be minimal.
"The message is that it marks a new start for China in deepening reform in the financial sector and boosting capital-account convertibility, and further strengthens our exchange rate policy and makes it more market-oriented, flexible and transparent," he said.