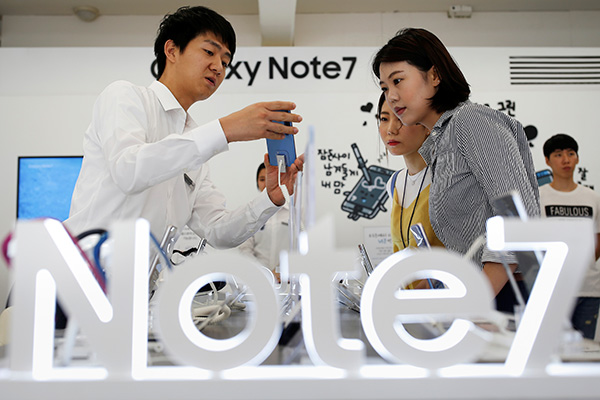 An employee introduces a Samsung Electronics Galaxy Note 7 smartphone at a store in Seoul, South Korea. [Photo/Agencies]
Samsung Electronics is to face a class action lawsuit in South Korea set to be filed next week by owners of the company's Galaxy Note 7 smartphones for their inconvenience experienced throughout the recall and discontinuation scandal, Yonhap news agency reported on Wednesday.
Owners of Note 7s, which Samsung decided last week to discontinue, plan to file a class action suit with the Seoul Central District Court on Monday.
Harvest Law Office, a local law firm that will represent the owners in the court, has collected 57 owners of the fire-prone device as of 9:30 am local time (0030 GMT).
The number is expected to rise as the law firm keeps, and will keep collecting those who want to join the class action lawsuit.
The owners will claim 300,000 won ($268) per person in damages for their inconveniences they experienced during the company's recall and discontinuation process.
Samsung announced its global recall in early September of 2.5 million Note 7 phones.
Scores of the faulty devices catching fire or overheating had been reported globally for two weeks after its debut.
The South Korean tech behemoth finally decided last week to stop production and sales of the fire-prone phones.
Note 7 owners are to claim in the filing that they had visited retail stores four times to purchase the device at the very first, check batteries, exchange the faulty device with a replacement one and swap it with other smartphone.
The damages of 300,000 won was claimed to compensate for their time-consuming, anxiety felt when they were using the fire-prone phones and a psychological trauma they suffered.
Samsung has faced similar lawsuits in the United States. According to media reports, three Note 7 customers have filed a class action lawsuit with Samsung in a federal court in New Jersey.