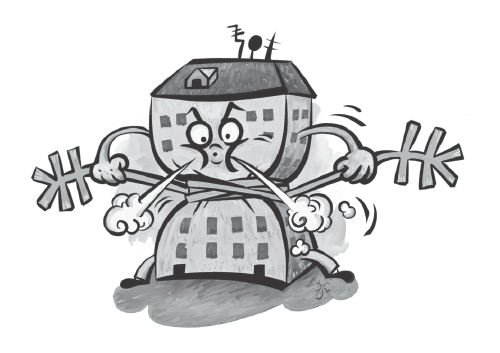 MA XUEJING/CHINA DAILY
China's housing market is active again. After a slump in 2014 and most of 2015, housing starts are rising, responding to an earlier recovery in housing sales that is also showing in housing price increases. The renewed enthusiasm in real estate has been key in supporting GDP growth and heavy industry sectors, such as steel.
But the recovery is uneven, with signs of a price bubble emerging in some, mostly large, cities, while inventories remain high in others. Property prices in Tier-1 cities and some Tier-2 ones have risen sharply since early 2015. In Shenzhen and Shanghai, they were around 38 percent higher on average in August than a year ago. The rally has also spilled over to the land market, with prices at auctions breaking new records. Meanwhile, mortgage lending is surging and a record share of housing sales is financed by lending. That said, household balance sheets remain reasonably healthy overall and loan-to-value ratios are still moderate.
At the same time, many Tier-3 and Tier-4 cities are still struggling to digest sizeable inventories of unsold housing. Although housing sales also recovered in smaller cities, bringing down stocks, they still remain elevated in comparison to historical high levels. Indeed, the demand supply situation in most of the smaller cities remains very different from that of the large ones, with many developers having over-built without realistic assessments of demand prospects.
Developments in the Tier-1 cities tend to get the limelight and can have spill-over effects, but since construction and sales in the smaller cities make up the bulk of the nationwide total, the situation there is more representative of the overall property sector and thus, also key for nationwide policymaking.
Macroeconomic policy easing has been an important factor behind the recovery in housing sales and prices since early 2015. Interest rates have been cut six times since mid-2014, and the reserve requirement ratio five times. Also, early this year minimum down payment requirements were cut nationwide as the government actively sought to encourage mortgage lending to spur sales and reduce the high inventories of unsold housing.
The frenzy on the housing markets in the Tier-1 cities is in no small part a manifestation of China's overly rapid credit growth policy. As in the other parts of the economy, the unsustainably rapid credit growth-the government aims at 16 percent this year-deployed to meet overly ambitious GDP growth targets is leading to misallocation and financial risks in the property market.
This begs the question of what policymakers should and will do about the surging housing prices. In our view, overall credit growth should be reined in at any rate. In addition, specific nationwide steps to contain the housing market frenzy and tame excessive financial inflows into property can be taken as well, including higher minimum down payments for mortgages. However, in reality such nationwide tightening will probably be limited, given that the overheating is not spread across the country and China's leadership considers rapid credit growth and a recovery of real estate key to meeting GDP growth targets.
In the absence of significant nationwide steps, it would make sense for local governments to tighten demand in the overheated cities by means of further city-specific housing purchase restrictions, as well as to increase land supply. Indeed, following recent restrictions imposed in various cities, we expect more cities to implement such measures in the coming months.
Such tightening measures are unlikely to have a major impact on the real economy. While leverage is rising, loan-to-value ratios remain moderate, making it unlikely that significant numbers of homebuyers will enter negative equity, default on their mortgages and be forced into "fire sales".
More importantly, a relatively cautious attitude of developers during the current sales recovery and significant destocking since early 2016 mean that construction does not have to adjust as much to a sales slowdown as in 2014.
The author is head of Asia economics at Oxford Economics.