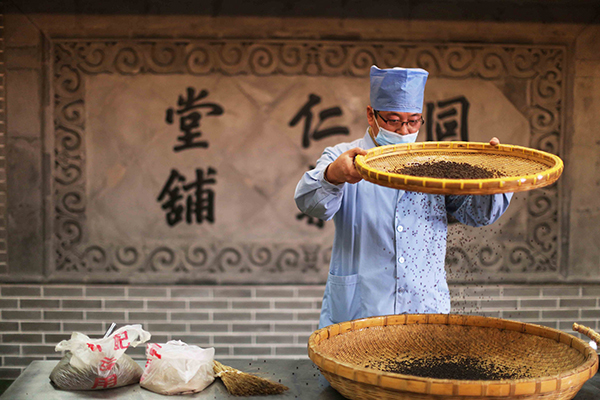 A pharmacist processes a traditional Chinese medicine at a Beijing Tongrentang Group Co Ltd's factory in Beijing. [Photo/China Daily]
Beijing Tongrentang Group ratchets up its overseas play through branches, M&A, R&D and training courses
Beijing Tongrentang Group Co Ltd, the world's largest producer of traditional Chinese medicine, plans to increase investment outside China and open at least 200 overseas branches in the next five years.
"We will establish localized factories in mature overseas markets, open TCM clinics and healthcare centers," said Ding Yongling, vice-president of Tongrentang.
The company has already set up 115 retail terminals, TCM clinics and healthcare centers in 25 countries and regions by June-end, and treated over 30 million patients.
It employs nearly 900 staff overseas, 90 percent of them locals.
"Our goal is to enter Europe and the United States, but the plan is very difficult to execute. The biggest challenge is how we could break products' access barriers, said Ding.
Founded in 1669, Tongrentang was appointed to provide medicines for the royal pharmacy of the imperial palace of the Qing Dynasty (1644-1911) for eight generations of Qing emperors spanning 188 years, according to its official website.
Tongrentang began overseas expansion in 1993 when it opened a retail pharmacy in Hong Kong.
In 2003, it rolled out its Southeast Asia network. In 2006, it established the first overseas production and R&D base in Tai Po Industrial Park of Hong Kong, covering an area of 11,700 square meters
It got listed on the Hong Kong stock exchange in 2013 and raised HK$699 million ($90 million). The 347-year-old Tongrentang began to expand into Europe and US mainstream markets outside the boundary of the drug market.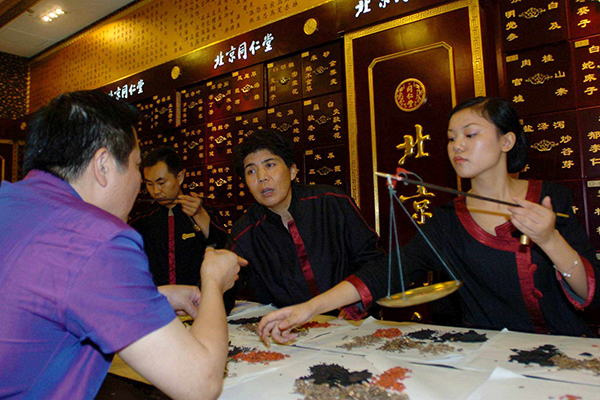 Beijing Tongrentang Group Co Ltd's employees prepare traditional Chinese medicine for their customers at a Tongrentang pharmacy in Chengdu, Sichuan province. The Chinese TCM company plans to broaden its overseas business by opening at least 200 branches over the next five years. [Photo/China Daily]
Last year, it forayed into the Netherlands and New Zealand through acquisitions. It bought out a local TCM enterprise in New Zealand, which now has seven retail stores.
It also established an R&D company in Switzerland and opened a TCM clinic in Prague, the capital of the Czech Republic.
Ding said TCM is yet to receive legal recognition as a mainstream system of medicine worldwide. TCM products are generally recognized as food additives and dietary supplements and allowed entry into Europe and US markets.
"With regard to this issue, we have set up teams to analyze policies in different countries," said Ding, adding they have explored a development method in overseas markets, covering products, retail stores, medical treatment and culture.
It now has three core businesses: modern pharmacy, retail business and health services. Its production line has passed the GMP (good manufacturing practice) test in Hong Kong, Japan and Australia.
"In the past, Westerners had little knowledge about TCM, but now, we teach about TCM culture and history by holding lectures and offering healthcare services," Ding said.
China's cabinet, the State Council, issued a guideline in February on developing TCM during the 2016-30 period. According to the plan, the output of the TCM industry will account for 30 percent of the nation's overall pharmaceutical industry.
The country has intensified efforts to expand TCM outside the country, pushing for the ancient discipline to be accepted worldwide.
Ding said there are both opportunities and challenges for Tongrentang now. "We have policy support from the central government, but TCM is still difficult to enter Europe and US markets as a medicine."
Tongrentang has a plan to have a presence across the industry chain overseas and aims to build up an international and specialized TCM group, integrating planting (of herbs and saplings), procurement, R&D, manufacturing, sales, service, culture and education.
It is expanding its marketing channels, trying to connect different industries by an online-to-offline or O2O model to publicize the charm of the brand.
Last October, it launched a cross-border e-commerce platform to provide healthcare products and services for global consumers.
Ding said, "We will further export TCM products to more countries and regions, and introduce excellent overseas resources to China."
In March, Canada's Factors Group of Nutritional Companies Inc, a manufacturer of branded natural health products, signed a licensing agreement with Tongrentang to distribute its flagship Natural Factors brand in China.
"We will strengthen cooperation with overseas research institutes to come up with new products which cater to the taste of local people. Moreover, we will also cooperate with overseas universities to promote the TCM education to cultivate local TCM talents."
Huang Ting, a pharmaceutical industry analyst from Sinolink Securities, said Tongrentang, as a time-honored TCM brand, enjoys a large space in the non-medicine business field. "Its brand equity, pharmaceutical technology and exclusive varieties cannot be replicated easily. I am bullish on its long-term development."