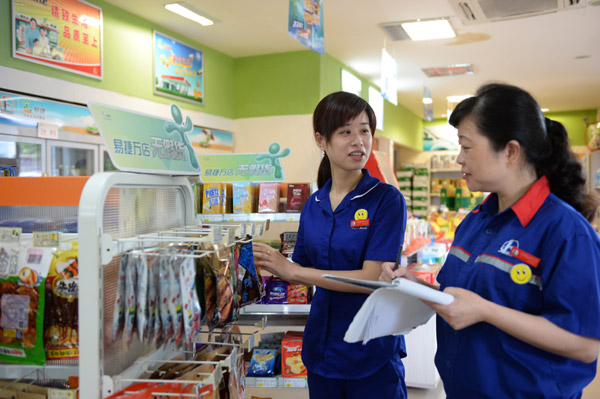 Two employees stack items at an EasyJoy convenience store in Jingdezhen, Jiangxi province. [Photo/China Daily]
BEIJING - China Petroleum and Chemical Corporation (Sinopec) reported a 21.6 percent drop in net profit for the first half of 2016 on Sunday mainly due to persistently weak oil prices.
The company's profit attributable to equity shareholders was 19.9 billion yuan ($3 billion) between January and June, according to its financial results.
Oil and gas production in the first half of 2016 fell 5.99 percent year on year to 218.99 million barrels of oil equivalent.
Hurt by oil price drops, the operating loss of the company's exploration and production segment sharply widened to 21.9 billion yuan from 1.83 billion yuan in the same period last year.
Luckily, weak prices contributed to a 113-percent increase in the operating profit of the company's refining segment.
Despite the profit decline, Sinopec said its liability-to-asset ratio dropped to 43.46 percent, the lowest level since its listing, and its cash flow and financial position further improved.
The other two energy giants in China also posted lackluster performance, with China National Petroleum Corporation seeing a nearly 97.9-percent decline in its net profit and China National Offshore Oil Corporation suffering a loss of 7.74 billion yuan.