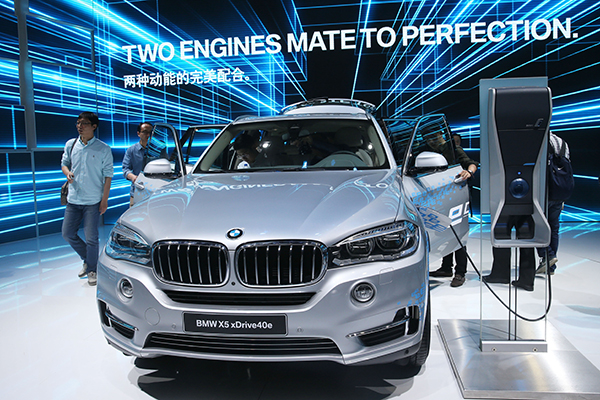 SUVs will be one of the highlights at this year's Chengdu Motor Show from Sept 2 to 11. [Photo provided to China Daily]
Alongside the usual array of supercars, a drive towards larger exhibition areas and more sport utility vehicles may dominate this year's Chengdu Motor Show, the largest and most influential of its kind in western China.
Themed Road to China's West, the Chengdu Motor Show 2016 will be held from Sept 2 to 11, by Hannover Milano Fairs Shanghai Ltd and Chengdu Century City New International Convention & Exhibition Centre Ltd, at New International Convention & Exposition Center Chengdu Century City.
Many brands will unveil their new sport utility vehicles and crossover models, as selling larger models enjoys a higher margin.
The SUV fleets will be led by the Maserati Levante, the Italian luxury brand's first SUV.
In spite of its popularity and profitability, the luxury SUV segment is getting increasingly crowded with Bentley's Bentaga, Jaguar F-Pace, and even Rolls-Royce working on models.
As one of the four top auto shows in the country, the exhibition will cover 150,000 square meters and attract about 110 international and Chinese auto brands to the capital of Sichuan province, whose 1 million-plus vehicle registrations are second only to Beijing.
After 18 years of development, the show has gained large investment and support from the leading car manufacturers and media.
Both Daimler AG's Mercedes-Benz and BMW Group have taken 2,400 sq meters of exhibition space to impress the rapidly expanding western China market.
China's efforts to take the lead in the new energy vehicle market will also be seen weeks later.
Home grown auto brands, such as Geely Automobiles and BYD Auto, have announced their ambitious new energy plans.
Their latest plug-in hybrid and full electric models are expected to demonstrate the latest upgrades in core technology research development.