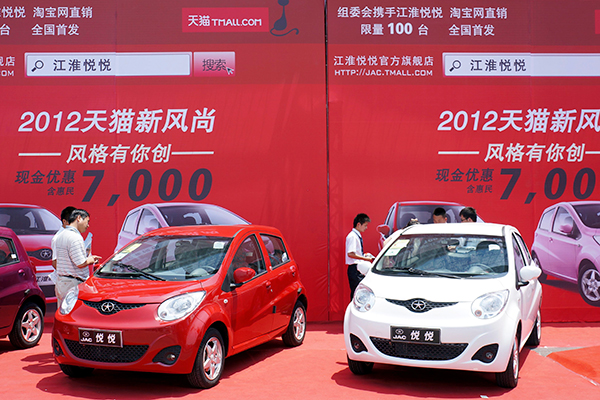 Despite an unpredictable future for online auto businesses, carmakers still view e-commerce platforms as a channel for boosting sales, according to experts. [Photo provided to China Daily]
Websites that sell new cars are struggling to grab sustainable market share as critics see flaws in the system
Auto business websites continued joining the race last week in Beijing, just days after one of their leading peers suddenly stopped operating.
Earlier this month, ichefeng.com laid off all its employees and gave them severance pay on Aug 15, after the company's investor ceased providing capital and tried to retrieve some earlier investment, local media reported.
The Shanghai-based website, which claimed to be the largest by volume of its kind in China, sold cars at prices 2 to 10 percent lower than average, but its business relied heavily on bargain supplies from 4S dealers and direct sales from manufacturers.
Jia Xinguang, senior analyst with the China Automobile Dealers Association, told China Daily that websites selling cars would never totally replace offline dealerships who still close deals.
"The price of tens of thousands of yuan for a car is a large amount for customers who can barely trust the pictures and text on a website when they stay at home and only browse online," he said.
"People still have to visit brick-and-mortar shops to inspect and choose their cars."
The ichefeng.com business, which was once valued at 1 billion yuan ($150 million), said it made bulk purchases at low prices and attracted more than 1 million registered users.
However, a car dealer told the reporter that e-commerce companies were seen as helpers handling stock that could not be easily sold at common prices.
Cars being sold in budget deals had already been sitting in dealerships' inventories for more than 6 months, he said.
A local media outlet cited Li Haigang, general manager of Dongfeng Peugeot, as saying that in the process of selling a car, online businesses are useful in the earlier phase of the process in persuading potential customers to visit actual showrooms.
An impressive online experience and excellent follow-up offline would constitute a good interaction between the website and the dealer, Li said.
Xue Yu, an analyst at International Data Corp, said car transactions on e-commerce platforms occurred mainly between business organizations, and the majority of the volume was made up of used cars.
IResearch Consulting Group found an individual Chinese spent 9,207 yuan on average in online purchases in 2015.
The report estimated the average individual expenditure might climb to 10,830 yuan this year, still much less than the price of a mini-size budget car.
Data shows that most online car transactions were down payments.
The Tmall online shop saw SAIC General Motor's Buick achieve revenue of more than 150 million yuan during the Singles Day event on Nov 11 last year.
More than two-thirds of that amount were made up of orders for 2,305 units of the Buick Excelle, at more than 40,000 yuan each for a vehicle that costs about 100,000 yuan.
Audi recorded 196 orders for the A3 1.4T manual special edition that were paid in full in Tmall transactions during the same shopping period last year.
Alibaba, China's largest e-commerce platform, said more than 1 million liters of lubricant oil, 580,000 driving video recorders, 160,000 safety seats and 20,000 tires were sold during a promotional event.
Xue said that about 80 percent of individual customers consider buying auto goods for their cars online, rather than a new car.
After-market goods and services, including maintenance, repairs, tune-ups and insurance are better to e-commerce channels, he said.
However, the online market was still attracting more companies.
Used car trading platform renrenche.com extended its business to new cars last week by linking with car seller 100che.com.
The sites will share their user data to help each other seize market opportunities.
Mucang Technology, a company running a new driver training app, announced it was entering auto e-commerce and launched a car selling website maiche.com two weeks ago, in the hope of attracting the app users to place orders for cars.
Alibaba, which claims it possesses big data on 50 million car owners, is still exploring the online auto business method.
An Alibaba project leader said the company still have no idea about how to make best use of the big data on car owners, and they are open to work with any informed entrepreneurs.