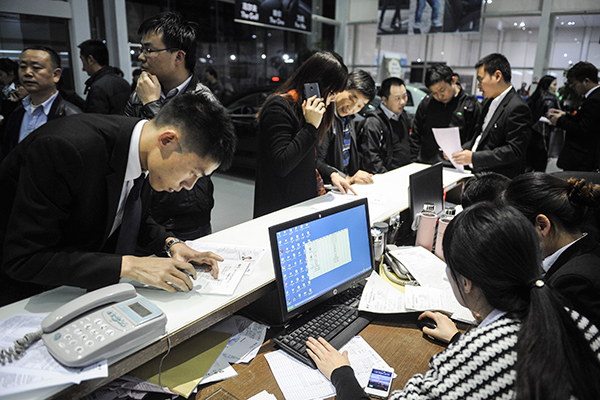 A car dealership experiences a rush in trade on the night before buying limit policies were introduced by Shenzhen on Dec 28, 2014. [Photo/China Daily]
On Aug 19, a salesman surnamed Chen in Nanjing, Jiangsu province, devised a piece of false information in the hope of selling more cars, saying that his city would soon start curbing car sales.
He made it. The rumor spread so fast that it created panic shopping in Nanjing in the following days.
The Nanjing government soon said it had no plans to do that, and the salesman who cried wolf was detained by police for five days from Aug 24 as punishment for disturbing the social order.
Simple as the farce sounds, it was in fact thought-provoking if you dig a little deeper.
One question people would ask is why Chen would lie in the first place. There might be several motives-first, more sales mean higher income-but a major cause could be the way cars are sold in China.
In Chinese market, it is common for carmakers to set a sales target and demand that car dealers buy them first no matter they have customers waiting in line or have to put them in stock for months.
That is why some people are indifferent to Chen's punishment. The newspaper China Youth Daily reported that after hearing of the case, a Nanjing car salesman said that if the government had not refuted the rumor so quickly, his dealership would have soon reached its sales goal for the year.
The way cars are sold in China has strained relations between carmakers and dealers, and reports emerge from time to time of dealers, especially those who sell premium brands, combine forces to defend their interests.
Another view is that customers in the case should also be blamed for their credulity.
I don't think so. Curbing car sales has been a frequently adopted measure in China to prevent traffic jams and alleviate pollution.
To date, almost all major cities have put brakes on license plates so people who want to buy a car have to try their luck in a lottery, as they do in Beijing, or buy it for tens of thousands of yuan, as happens in Shanghai.
So if I lived in Nanjing, I would also have taken Chen's rumor to be true. Otherwise, I would have run the risk of not being able to have a car when I need one. And what contributed to people's nervousness was that many regional governments would not warn people that they were going to introduce such a measure.
Local authorities in Tianjin and Shenzhen did not make such a measure public until a few hours before it took effect. Beforehand, they were saying that there were no plans to curb car sales.
Nanjing is doing a better job. Local regulations mandate that if the government has such a plan, it must inform the public 30 days in advance.
What is even more reassuring is that the central government has urged caution about measures to curb car sales.
The Ministry of Transport said in its 13th Five-Year Plan (2016-20), released in July, that local governments should be cautious about limiting car sales and use, and avoid making them permanent rules. It also said cities that have introduced such measures should consider alternative means.
I give this a thumbs up, as many people would. Solving the problem of traffic jams can't be done overnight, but the fact that governments might start looking for more creative and convenient solutions deserves applause.
Wish them good luck. At least, their success would help cut the number of salesmen ending up in jail for selling rumors.